Review: Distinctive Blue Lace-up High-heeled Canvas Shoes from Oasap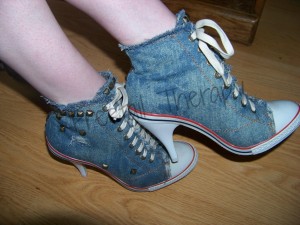 Let me start off by saying, I love these shoes. I just think that it is horrible that they are falling apart already. I have only had them for about a month now, and I am having so many issues with them. Thing is, this isn't the first time I have had issues with products from Oasap. as a matter of fact, the other shoes I wrote about had a lot of issues as well. Read my review on the Classic Platform Round-toe Pumps from Oasap.
These are the ONLY heels that I can full out RUN in. I literally ran a mile in these shoes, with no problems. The tread on the bottom gives for fantastic grip, and ever since I got these, I have been looking for other pairs of heels with nice tread.
These shoes are true to size, and even fit my wide feet. The problem comes in the workmanship. They are just put together horribly, and are falling apart in many different places. For EIGHTY TWO DOLLARS these Distinctive Blue Lace-up High-heeled Canvas Shoes should not be giving me any trouble!

I am so torn with Oasap and their products. I am still (over a month now) missing items from my order. A pair of studded shoes that I got, came missing a stud and they won't pay for return shipping. Their return policy says that they will accept returns for any reason, but it doesn't mention that you have to pay for the return shipping….to CHINA! I am sure that after I have published this review, that I will never see the items that didn't arrive, nor will I get properly credited back for them. I hope that they make this right, as I am still missing $271 worth of products from my order. From the $787 order that I placed with them, the only items that fit (from the stuff that actually arrived) are these shoes, and they have already fallen apart.
While the shoes were fantastic (while they lasted), I want to know what my readers think I should do. Please watch my video, and give me your thoughts.