Review and Giveaway: Designerliners – WINNER ANNOUNCED
Sponsored by Tomoson.com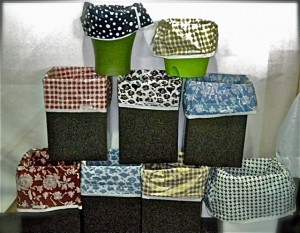 I received a pack of these Designerliners to try out and I think they are so stinkin' cute! I got the Leopard Print ones, middle can, middle row. If you notice in the stock photo, there is a white band at the bottom of the liner, I didn't like the way that looked, so I tucked it neatly under itself, so it wasn't showing and they came out looking great. I used them in my bedroom garbage can, since it matched my decor perfectly.
Muriel Wiener, one of New York's most successful executives in the promotional advertising business, has made a career out of developing new concepts for both things that people know they want and for things they never realized they needed.

While recuperating from an accident that was so serious, she could barely see (even her eyeglasses didn't help much), for the first time in her life, she needed help in the house. And, during the course of her daily activities, this misguided helper committed what for Muriel was the unimaginable…she stuffed a grocery bag into the waste basket.

Even with limited vision and broken glasses she could see that there was a grocery bag in the waste basket, but something red and black was in the bottom, pretty; however, in Muriel's house a grocery bag in the trash is a definite no-no. Upon further investigation she saw it was a logo. Outrage set in, but then came the idea. Put a pretty pattern on the inside of biodegradable plastic bag, or a logo and "dress the mess".

Finally a solution to the age old problem of trash. If someone who had recently had an accident and to heal from the inside out still found this it to be an eyesore, then it should be no less acceptable to any of you or your clients.

Thus designerliners was conceived. If our paper towels have a pretty print and they get thrown out immediately, then the waste basket liner should be shown the same respect.
So from leopard prints to logos you can finally smile at your very own trash!!
Check out Designlerliners online, then Enter below to win a pack of your very own!

I received one or more of the products mentioned above for free using
Tomoson.com
. Regardless, I only recommend products or services I use personally and believe will be good for my readers.