Personal Microderm (PMD) Review from @personalmicrodm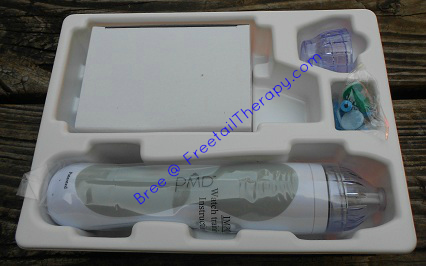 Microdermabrasion is a kind of exfoliation that removes dead skin cells from the outermost layer of your skin. The outermost layer is the layer of skin that can be affected by lines, wrinkles, acne, scaring and blemishes. The PMD or Personal Microderm is your way of doing this in a more affordable manner, while in the comfort of your own home. Using this kind of exfoliation, triggers your skin cells so that the dead or damaged ones are replaced with healthy skin cells. Rejuvenated skin promotes collagen growth and cell renewal. In turn, when the dead skin cells are removed, this helps skin care products to be absorbed more fully, which maximizes their effectiveness. The PMD works for those with wrinkles, age spots, fine lines,  skin discolorations, acne, and other imperfections who want smooth, even-toned skin.

The PMD package includes:
1 personal microderm
7 exfoliating discs (1 white training, 
2 green
 and 
4 blue
)
1 electric cord (Standard U.S. Outlet)
1 facial cap
1 body cap
1 reusable filter
Instructional CD and Pamphlet
Directions:
Wash face, making sure to remove all makeup, oil and dirt.
Dry your face completely.
Place the disc that you are going to use (face disc or body disc) onto the shaft and screw on the cap that goes with it. Make sure it is placed securely.
Using your fingers, stretch your skin so that it is tight where the tip makes contact with skin. Keep the PMD moving constantly over your skin. DON'T hover in one spot.
Use light pressure with early treatments. As you become accustomed to using it you can apply more pressure.
Make sure to stay above the eyebrows and below the cheek bones, because of the very sensitive skin there.
After you are done, be sure to use a good moisturizer.
Make sure that you are using sunscreen for a few days after the treatment..
The instructions state that the PMD should only be used once every 7 days. It should be tested somewhere other than your face the first time, so that you can become accustomed to using it and so that you will know whether it is safe to use on your face. After usage, your face may become a bit red. During treatments, apply sunscreen every day. Stop using this if you feel any type of pain while using the PMD.
 After the first treatment, I noticed a slight difference that became more noticeable after the second and third treatments. I have blemishes from acne breakouts from my teenage years. While they aren't completely gone yet, I have noticed that they are fading.
 Just remember to read the directions or it can be harmful to your skin.
Social Media Stops for PMD:
Stop by, leave them a comment and tell them Freetail Therapy sent you! 
What do you do to keep your skin looking young and healthy? Are there special recipes or steps that you use?
PMD provided by Personal Microderm for the purpose of review, but all opinions listed here are my own.