Event: Little Free Library Scavenger Hunt – August 7, 2021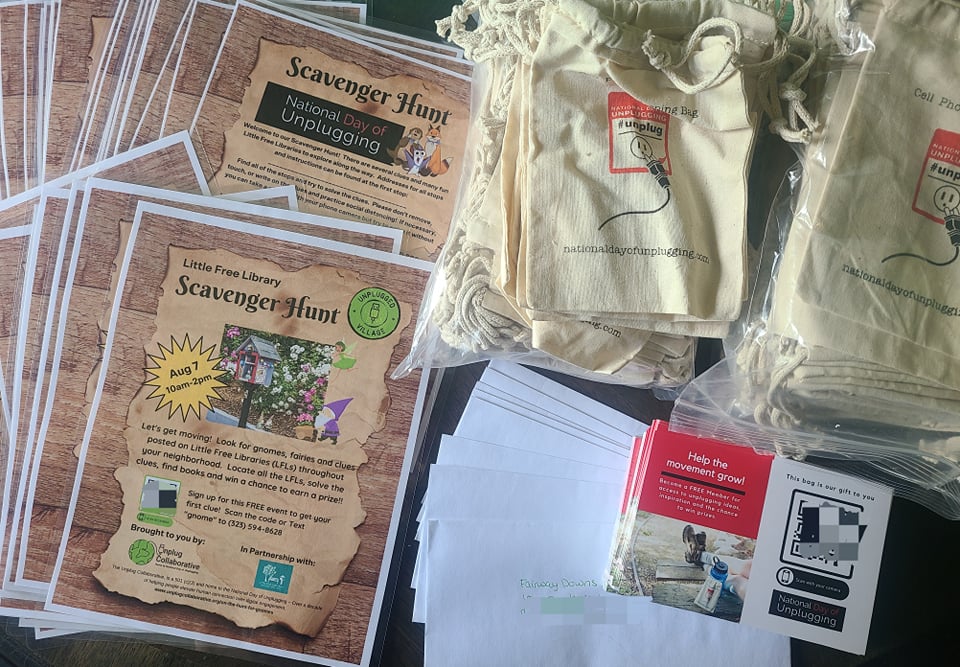 We will be hosting a Little Free Library Scavenger Hunt on August 7, 2021 in Battle Creek, MI, USA as a fun activity to help people unplug and take a break from technology.  People are setting up hunts all over the globe and we are getting in on the action.  Last March was the first LFL hunt for National Day of Unplugging (NDU) and there were 41 hunts across North America reaching over 2,000 people.  
I know we can pump those numbers up. LET'S DO THIS! While you are hunting, Unplug for a Cause® the Unplug Collaborative has partnered with lilspace to transform 30 minutes unplugged into 3 pairs of socks donated to an organization that provides support to people living in homelessness. Start making your time unplugged count!
Get out your woodland creatures as this hunt will have a gnome and fairy theme. Kick off for the hunt will be 10am-2pm and we will leave our clues up for a week so people can participate at a later date if they can't join in on August 7th. The first 150 hunters of all ages will receive a participation gift at the first stop.
This event is being put on by Freetail Therapy and the Unplug Collaborative, a 501c3 and home to the National Day of Unplugging. Go to www.nationaldayofunplugging.com for more info about their organization.
I hope you can join in this fun activity for our Little Free Library community!
Don't have a Little Free Library but want to start one to engage your community with literacy? You can buy a kit or get creative and make your own. There are even mobile LFLs if you can't have a permanent one at your location.
If you want more info or want to be included as a Battle Creek Scavenger Hunt stop or sponsor, please email me at mail@freetailtherapy.com by July 17, 2021.