Review – Miche Demi Handbag $130 Value!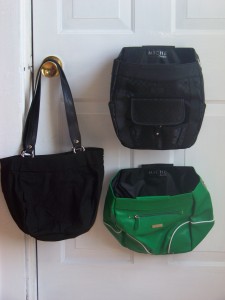 Miche has amazing work from home opportunities, so if you are a bag lover, like me, or just want to earn some extra money, you might want to consider this company. I am not a Miche Sales Representative, but after getting to review these bags, I am seriously considering it!
When I first got my box in, I was SO confused! I didn't understand how to put it together, but after a couple of minutes of me blonding out, I got it. It is actually really simple, and the only thing I could thing of, was that it was like Build-A-Bear workshop for moms!
You first pick the style that you like best from their various sizes. They have the Classic Base Bag in white, brown or black, the Prima, the Demi (which is the one I picked), and the Petite base bag. The one you pick here, will determine which shells you get. I LOVE large purses, so I decided on the Demi. The Prima is large as well, but I wasn't really attracted to the straight lines of it, I liked the curves that the Demi shows off.
Once you have decided on a base bag (or have bought them all!), then you can pick a shell or 12. I was told that they come out with new shells every month, my wallet is yelling at me already! After looking at all of the Demi Shell options, I decided on the Lisa and the Sharon for my review.
I LOVE coffee! In almost any form (well not as ice cream…) and so, I usually have some kind of coffee with me at all times, which means….spilled coffee on my purses. This is why I was excited to see that the bags are easily cleanable. You can wash them off with soap and water, without harm to the bag.
I change purses all the time. I enjoy finding new bags to match different outfits, but I despise changing everything over from the previous bag, so that is another plus to the Miche system. You can keep everything in the same base bag, and change out your shells at will, a quick 30 second change. That is far better than a half hour of reorganizing everything in my purse!
With all of the different shells that are available, you could match your bag to EVERY outfit! This is a really amazing system! I am able to keep my purse full, and just change the shell to have a different look, which is a huge plus for me, because although my purse is VERY disorganized….I know where everything is. If I have to move things around when I am switching out purses, I can't find anything for a week.
I am very impressed with the workmanship of the bags. I didn't find any threads out of place and all of the seams were tight. I really like that the shell completely changes the bag. Some have pockets on the side, some have a zipper pocket on the front. They all have a magnet flap on each side of the opening on the top (you can see that in the picture at the top of this post, where the shells are hanging on my door by their magnets) which is how they stay on the base. This magnet has not been known to cause any issues with credit cards or cell phones, and I have not noticed a problem personally.