#BlogHer12 – Blogger Bash: Review and Sweepstakes- SodaStream $99 value!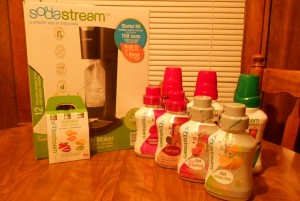 With the way that my family goes through sodas on a daily basis, I knew eventually something would have to be done. That something, was the SodaStream, it's a perfect alternative to bottled soda.  I counted this past week and though I really hate to say it, we went through 36 cans of Dr. Pepper, 2 liters of Sprite and a 2 liter of Root Beer. Granted, the Sprite was the  only thing my older daughter drinks in the way of soda, I am so proud of her, she is more of a milk drinker. Dr. Peppers are our weakness, my husband and I. If we don't have some type of caffeine every day, we get very irritable, but we don't allow the kids to drink soda with caffeine anymore.
After realizing how much soda we go through in a week, I knew something had to be done. Not only do sodas give you too much sugar, but there's all of the other undesirable ingredients to be found inside them as well. In my much loved Dr. P, there are 150 calories, 40 grams of sugar and 55 grams of sodium, in one can. In one serving of the cola soda mix there are 100 calories, 30 mg of sodium and 26 grams of sugar. I compared my regular can of soda to the cola flavor from SodaStream, because so far that is our favorite flavor. We don't really care for artificial sugar, it leaves an aftertaste, at least to us. We have  decided that we prefer the soda flavors that are made with cane sugar, because they taste closer to the real thing to us.
We got the SodaStream Genesis package earlier in the day, but due to so many errands and appointments, we weren't able to put it together when we got home. Imagine my surprise when my husband wakes me up at about 1 am, saying that he really wanted to try the sodamaker and could he please open the package. I guess it was my fault, since I had been telling them about it since I found out that I was going to get to try it. I told him to give me about 10 minutes to wake up and we would get to it.  I was shocked at how easy it was to put together. There are no batteries to be replaced and there were actually only 4 pieces to the soda maker. It took me longer to read the instructions than it did to put this together. After getting this together, we had to decide which soda flavor we wanted to try first. After much debate, we decided on the Dr. Pete. You should start with very cold water, we have found that the flavor tastes a lot better and the fizz lasts a lot longer with cold water, so be sure to keep some in the fridge. Fill the bottle to the line, then attach it to the soda maker with a few turns and you are ready to add your carbonation.  Read the bottle of the flavor that you are using, just to make sure, that you are using the right amount of button pushes to get the carbonation that works best for your flavor. We used the Dr. Pete sample that came with the Genesis machine. We pushed the button 3 times and  after detaching the bottle, we added the flavoring. To both of us, it tasted like Diet Dr. Pepper, it was very sweet and didn't have enough carbonation for our tastes. After a few tries making different flavors, we got it perfect with the Cola flavor. It took 6 button pushes, but it tasted exactly like Coke to us. Score!
SodaStream may not work for every family and I honestly don't know if I will give up my Dr. Pepper just yet, but it is a great alternative to soda. My younger daughter loves it and it is something that she could even make herself.

Pros:
Quick, convenient and easy to use
Fresh, delicious soda in seconds
No more lugging heavy, bulky bottles and cans from the store
No more storing cases of soda
No more worries about running out of your favorite soft drinks
Over 25 great-tasting flavors, including regular, diet and caffeine-free options
Regular flavors have much less sugar, carbs and sodium than store-bought brands
Diet flavors are sweetened with Splenda® and contain no aspartame
Reusable BPA-free bottles and concentrated sodamix cut down on recyclables and disposables, making an environmentally-friendly alternative to store-bought drinks
No batteries, electricity or plumbing
Reliable and friendly service
Money-back guarantee and two-year warranty
Cons:
All flavors may not appeal to your family
Right now there are not a lot of flavors that are made with cane sugar
Soda Flavors:
Cola- tastes just like Coke
Root Beer- too sweet
Cranberry Raspberry- tastes just like a snow cone, might try this with some shaved ice
Lemon Lime- tastes similar to Sprite, but wasn't sweet enough for us.
We are still doing a bit of "research" to decide which of the other flavors work for us, but it is a lot of fun trying.
 1 Lucky Freetail Therapy reader will win a SodaStream Fountain Jet Soda Starter Kit.