#BlogHer12 – Blogger Bash: Review and Sweepstakes – CocoaVia™ $160 Value!
CocoaVia™ contacted me and asked me to do a review for their  cocoa extract supplement. Cocoa flavanols are scientifically proven to help support healthy circulation by helping blood vessels stay flexible and expand as needed, even as you age. And who, more than moms, could benefit from healthy circulation as heart, brain and eye health, even exercise performance, depends on a healthy circulatory system?
They sent me a few sample packs with different flavors, such as: Sweetened Dark Chocolate, Unsweetened Dark Chocolate, Summer Citrus and Cran-Raspberry. These are little packets of powder, like on-the-go juice packets. You can mix these with milk, coffee, yogurt, smoothies and oatmeal.
I added the unsweetened Dark Chocolate to my coffee and it was great, it was an equivalent of a mocha. The sweetened dark chocolate was added to some warm milk, to make a hot chocolate.  When added to the milk, the hot chocolate was nice and creamy!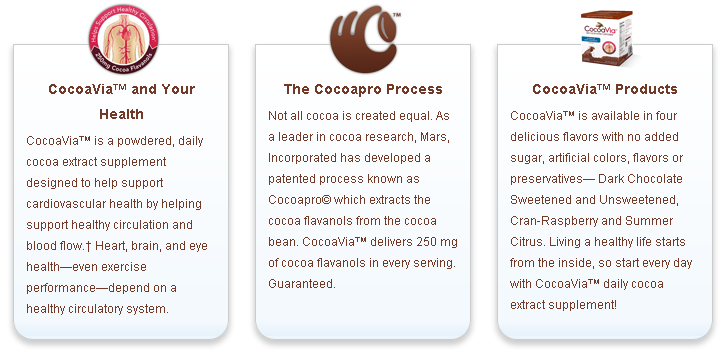 I was nervous to try the cran-raspberry and citrus, because I figured it would be a mix of chocolate and those flavors, which is really not my thing, but for research purposes, I did try them. They were both refreshing, and had a Crystal-Light'ish taste to them. Neither tasted like it had chocolate in it! I actually liked these better than the chocolate flavored ones.
The main reason why I don't normally take supplements is the taste, so I liked the fact that I couldn't taste any vitamins of minerals in it, like I normally do for supplements.
Enter to win Four (4) month supply of CocoaVia, a $160 value

a Rafflecopter giveaway