This is the easiest dessert I have ever made, but it is also a favorite for my entire family. It only has 2 ingredients, chow mein noodles and some type of chip ( we chose butterscotch). I poured the entire bag of butterscotch chips into my pot, although you can also melt them in the microwave. After it is completely melted, you can do one of 2 things. You can place your noodles on wax paper and pour the butterscotch over them or you can do what we do and add the noodles to the butterscotch in the pot.  After thoroughly mixing the two, I took a muffin pan and put cupcake liners in each slot. I spooned a little into each liner until the mix is gone. Then, simply place the entire muffin pan into the fridge so that they harden a but. My family normally can wait that long and they seem to prefer it warm so we only wait long enough for the butterscotch to cool off a bit. They don't look like much, but they are cheap and easy, which is a winning combination in my book. Below is an actual recipe for those that need it. We never added the candy or even took the time to mold them to look like bird's nests, but we enjoyed them anyway.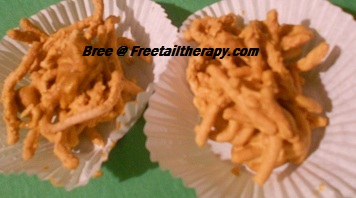 Source (Cooks.com)
1 (12 oz.) pkg. chocolate chips
1 (12 oz.) pkg. butterscotch chips
1 lg. can chow mein noodles
Jelly beans
Melt chocolate chips and butterscotch chips over slow heat. Pour over chow mein noodles. Cover a cookie sheet with waxed paper. Put a large tablespoon of chocolate-covered noodles on waxed paper. Form like a bird nest. Put 2 jelly beans in nest to look like bird eggs. Refrigerate until firm.