True Blood is my TV Obsession!

Who here is a Trubie? ME ME ME! Yea, I have been a fan of True Blood for years now. I don't have HBO, and won't order it for this one and only show, so I bought Seasons 2-4 from Amazon. My husband actually bought me Season 1 as a Valentine's gift a few years back, and I was instantly hooked. With Season 5 being available for pre-order, I am practically drooling. The last thing I saw from season 4 was Tara getting killed by a shotgun blast to the head, and I know it can't end like that. I try to stay away from the Twitter feed and any possible spoiler pages, because I haven't seen any of Season 5 yet, but I have a strong feeling that she will be turned. I just can't picture the show without her in it.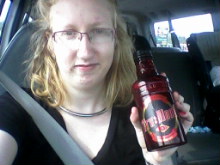 This is me with a bottle of TruBlood. We saw it at the checkout counter when we were buying Season 4 and I couldn't pass it up, plus it was yummy, so I was happy.

Ok, now that you know how much of a dork I am, let's get onto the real reason of this post. Eric Northman of course! Watching the interaction between him and Sookie over the years has been interesting and such a change from one extreme to the other. I have been attracted to him since the first time I laid eyes on his character, he is a beautiful creature and I can't wait to see what Season 5 brings for him.
With Sookie knowing "what" she is now, and starting to get the hang of her powers, I am convinced we will see some great things from her in Season 5, and although she is the main character in the show, I kind of don't like her much. I can't explain why, because I really don't know. It may be how she is like two different people. Sometimes she is that dumb blonde, and yet, other times she is super smart and on the ball. I just kind of wish she would pick a side to her personalities and stick with it, but then again, she can't pick a vampire either, so….I guess we're at a loss there.
NO SPOILERS ALLOWED, but I want your input on the series. I haven't gotten a chance to read any of the books they were based on, but from what I hear, they have strayed far from them. If you have read the books and seen the show, I want to know your thoughts on this. Who is your favorite character and do you prefer werewolves or vampires?