Organic Chia Seeds by Nutrigold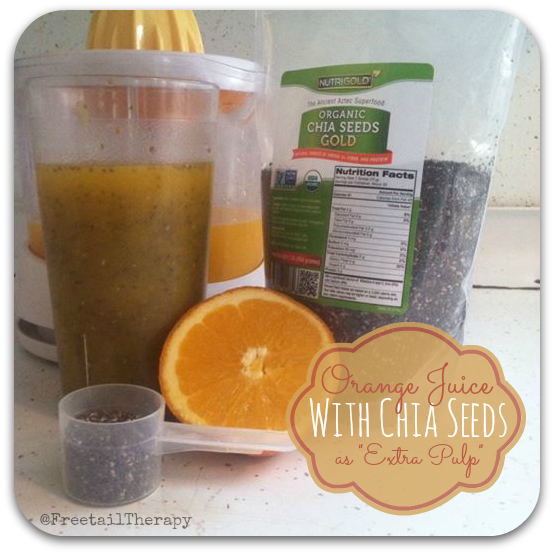 I have been interested in Chia seeds for a while now, but it took me a while to look into them. Nutrigold asked me to review their Organic Chia Seeds, so I figured it was meant to be for me to look into them now.
I found an organic chia seed drink that I fell in love with, but at $3.99 per 10 ounce bottle, I figured I could make my own and save money. I'm sure you could use any juice you wanted, but I started with Orange Juice. I cut and pressed 8 oranges to give me a glass of juice (I know….it takes a LOT of them! Thank goodness for food blessings!) then added 1 scoop of chia seeds. The bag comes with the scoop and one scoop is a single service size, so that was perfect. They kind of sat on the top, so I had to stir them in for about a minute and then let it sit for another minute, so the chia seeds had a little time to expand.
Chia Seeds don't really have much of their own flavor, they take on the flavor of whatever you put them in, and when added to a liquid, they puff up like tiny little jello or tapioca balls. I love lots of pulp in my orange juice, but since I was going to add the chia seeds, I used the setting on the machine that didn't allow much pulp through into the juice. Adding the chia gave my OJ some added potassium, which will help prevent leg cramps that I tend to get at night. Also, due to the expansion when added to liquid, it will help me stay full longer than a plain glass of OJ. Chia is low in fat and calories, but gives about 3g of protein per serving!
Chia, also known as Salvia hispanica, is a Latin American plant recognized as part of the mint family. Historically, chia seeds have been added to soups and beverages by ancient Native American civilizations such as the Aztecs to boost well-being. Chia seeds are becoming popular because they are a rich, vegetarian source of omega-3 fatty acids.

Additionally, Chia seeds also contain large amounts of fiber and protein, and lesser amounts of calcium, magnesium, iron, and antioxidants. Chia seeds are often described as having an agreeable crunchy texture and nutty flavor. Chia seeds can be added to a healthy diet in many ways, including sprinkling chia seeds on salads, soup, yogurt, or in smoothies.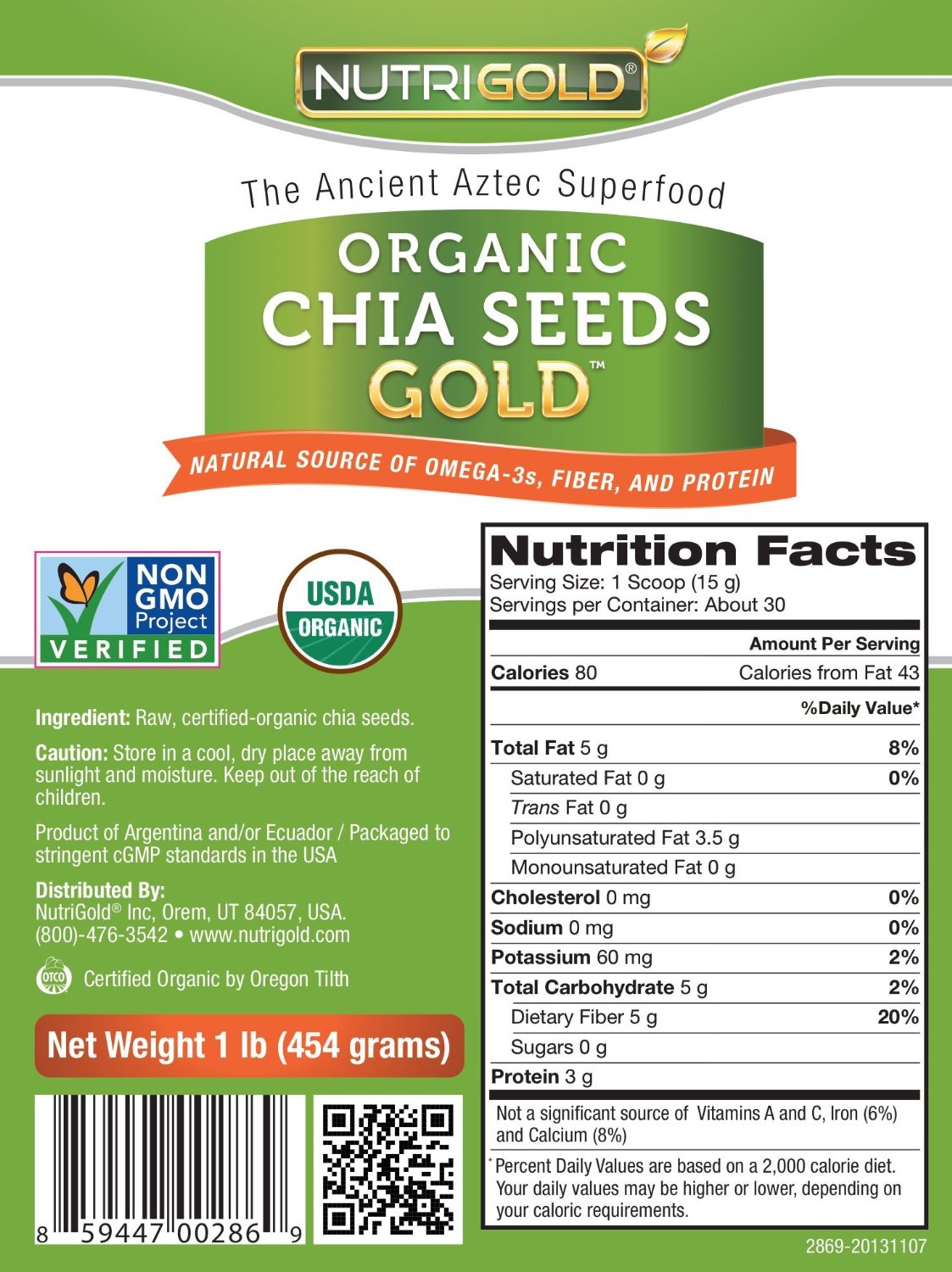 Overall, I am impressed with Nutrigold's Chia Seeds. When I compare the $10.99 price of these to the $3.99 per 10 ounce bottle of my favorite Chia Seed drink, I am thrilled with the pricing! This 1lb bag has about 30 scoops of chia seeds in it. Thirty bottles of the chia seed drink that I have been buying would cost me almost $150!
There is TONS you can do with Chia Seeds too, pulpy drinks aren't just it. Check out this post that my friend over at Midwest Modern Momma did. She has a lot of great recipes for chia seeds!