Looks messy, but tastes delicious!
I am a big fan of comfort food and nothing says comfort to me like hot, delicious pasta and cheesy garlic bread. For the sauce, the first few times I made this, I couldn't find the Fontina Cheese. It tastes good with or without the Fontina, so if you have trouble finding it, it isn't a big deal. I looked for this recipe for a long time, because this was my favorite dish from The Olive Garden. The family loved it and go back for seconds every time I make this dish. I usually double up the amount of noodles, so I can have enough for a few days. For this batch, I made the pan above and the round pan in the picture below. I usually have enough for 2 big pans, so we share with family.
FOR THE ZITI SAUCE
4 cups tomato sauce
2 cups alfredo sauce
1/2 cup ricotta cheese
1/4 cup mozzarella cheese, shredded
3 tablespoons Fontina cheese, shredded
1 teaspoon garlic pepper seasoning
1/2 teaspoon garlic powder
FOR THE ZITI TOPPING
3 cups mozzarella cheese, shredded
1/2 cup Italian breadcrumbs
3 tablespoons romano cheese, grated
3 tablespoons parmesan cheese, grated
1 tablespoon fresh garlic, chopped
3 tablespoons vegetable oil
3 tablespoons parsley
REMAINING INGREDIENTS
1 lb dry ziti pasta
1 cup mozzarella cheese, shredded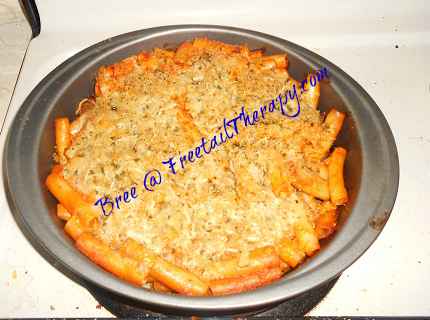 Directions:
PREPARE THE ZITI SAUCE:.
 Combining all ingredients for the Ziti Sauce in a large bowl; cover and refrigerate until ready to use.
PREPARE THE ZITI TOPPING:.
 In a medium-size bowl, whisk together the first four ingredients for the Ziti Topping.
 Add the garlic, oil, and parsley and mix until thoroughly blended. Cover and refrigerate until ready to use.
WHEN READY TO PREPARE THE WHOLE DISH:.
 Preheat oven to 375 degrees F. Spray a 13-by-9-inch baking dish or large casserole with non-stick spray.
 Prepare the pasta according to package directions.
 Pour 1/2 cup of prepared ziti sauce into the prepared dish, and spread it evenly over the bottom using a spoon.
 When pasta has finished cooking, drain the water and pour the hot pasta into the bowl of remaining sauce. Mix thoroughly; pour into the baking dish.
 Spread 1 cup of shredded mozzarella over the pasta and sauce mixture.
 Top the mozzarella with the prepared Ziti Topping, spreading evenly.
 Place pan on center oven rack and bake until top is golden brown and cheese is bubbling, about 30 to 40 minutes.
 Remove and serve immediately.
Source (Food.com)