Julep Nail Polish Review and Giveaway
I just go my intro box in from Julep, and in a few words, I am THRILLED! They gave me this box to review, and I get to offer one to giveaway as well, however, you can get your own for 1¢! I'll tell you more about that in a bit.
The box I picked was "It Girl", because it had a yellow in it, and yellow is my daughter's favorite color, which is a color that I didn't already have and she has been begging for.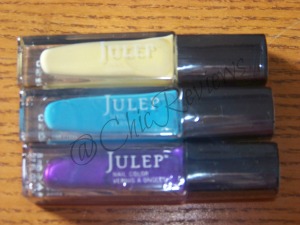 My other daughter appreciated the purple, but was not so secretly hoping for a green. Yes, I saw the colors before I ordered, and I told them what they were, but they seemed to have forgotten in the 4 days it took to get to me from when I placed my order.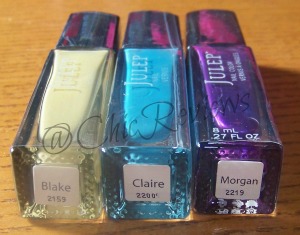 The colors we received are Blake (light cream yellow), Claire (blueish end of teal) and Morgan (metallic purple).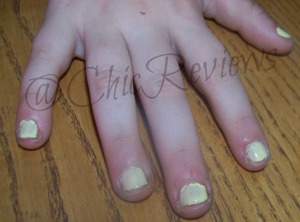 We did Syra's nails in her favorite color. Her nails are TINY (she's 7) so it was kind of hard to keep it on only her nail. I ended up painting part of her finger at one point. The picture above is with just one coat. Once we let that dry and put a second coat on, it was much more opaque.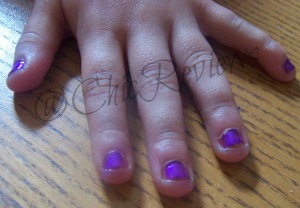 Jennica chose Morgan for her nails, and we had the same issue with nail size, except worse, since she is 5 and has even smaller nails. The picture above is also with one coat. She got fidgety though, and wiped her thumb polish on her lip. We had to re-do that nail.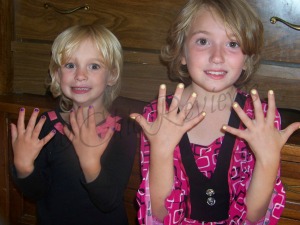 Here are 2 of my girls, happy with their new polished nails (and lip?). We did 1 clear base coat, 2 coats of Julep nail polish, then a top coat. I'm hoping they don't chew off the polish like they normally do, because I want to see how long it lasts on them. Normally, I get about 5 days of wear before they start to chip.
What makes Julep Nail Color so great?
Julep Nail Color is "4-free" and does not contain formaldehyde, formaldehyde resin, toluene, or DBP. Our professional chip-resistant formulation is delivered via our exclusive flat brush with micro-frayed brush hairs.

Julep nail color is a fun way to make the season's latest shades accessible to everyone.  And because we've tested our trend-setting toxin-free colors and products in over 100,000 manicures and pedicures in our parlors, we have a good idea of what works and what our clients love.

Powered By Girlfriends
We donate a portion of the proceeds to organizations that support women through our Powered by Girlfriends program.
Being 4-free, their nail polish is better for your body AND the environment than many other polishes out there. Not only that, but they donate to a great organization with each purchase, so I highly recommend them.
I have been using their polishes for a few months now. I signed up to get their monthly box at 1¢, then each month after that it is $19.99 and always contains at least $40 worth of polish. The boxes change every month, and you can switch between boxes each month, or even skip a month if you can't afford it or don't like any of the colors that month. It is a really great program!
If you use code FREETAILTHERAPY at checkout, you will be able to get your first box for 1¢ with FREE Shipping! You will fill out a style quiz, and it will pick which style they think suits you best, but if you don't feel that is correct, you can click "Continue Shopping" and add the style you prefer, then remove the one they picked. You can also change this each month, so you are not stuck with the style you picked. You can see the different Intro Box Styles below.