Review: Vlasic Farmer's Garden Pickles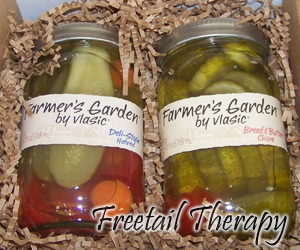 Pickles are one of my favorite foods, so when Vlasic asked me if I wanted to review their new line of pickles, I was really excited! These are called "Farmer's Garden" and come in Deli Style Halves, Bread & Butter Chips, Zesty Garlic Chips, Kosher Dill Halves and Kosher Dill Spears. I received all but the Kosher Dill Spears.
When they arrived, I was immediately impressed with the look and feel of the jar. They look like they were canned at home, something I would make myself. Each of them had some carrots, garlic and pepper pieces in there; to give it some color and flavor.
The first jar we opened were the Bread & Butter Chips, and for some reason, I was not expecting them to be "Sweet". I have never tried Bread & Butter pickles before, but I have had sweet pickles, and I never liked them, so these were not my thing. My 12 year old son confiscated them immediately upon hearing that I didn't like them, and he ate the whole jar that day. If you don't like sweet pickles, steer clear of this style and move onto the other ones.
The Zesty Garlic Chips were AMAZING! They had a nice kick to them, and I was forced to share them with my 2 year old daughter. She loves spicy foods and this was perfect for her.
We put Garlic in EVERYTHING…ok, not our cereal or coffee, but other than that anything goes! Garlic has so many health benefits, such as having antibiotic and blood cleansing properties. Garlic has 1% of the potency of penicillin and can ward off a number of bacteria such as Listeria, Salmonella, E. coli, Cryptococcal meningitis, Candida albican and Staphylococcus. The problem with most antibiotics is that bacteria develops resistance to them, however this is not the case with garlic. We try to be as natural as possible and stay away from antibiotics, this is one of the reasons we use so much garlic.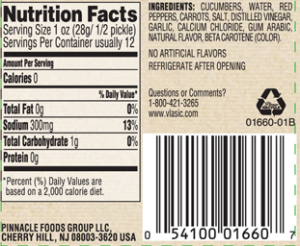 The Kosher Dill Halves were also very good! They had the perfect crunch that you expect from a store bought pickle, with the flavor of homemade. I wish I could get my homemade pickles to have that crunch. I'm still working on it.

The fact that these have no artificial flavors are a huge plus for me! They say to refrigerate after opening them, but they never make it long enough to need refrigeration. We open the jar and they are gone far too fast.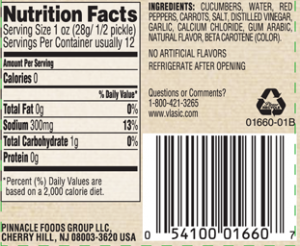 The last one we tried was the Deli Style Halves, and these were my FAVORITES of them all! They were EXACTLY like those large barrel Deli Pickles. The only difference were that these were cut up. I didn't share these with my kids, they were ALL MINE! I have been checking out my local stores, and unfortunately have not yet seen them in yet, but as soon as they arrive, I plan to buy a few jars.
If you have been looking at the nutrition facts as you read along, you would have noticed that almost all of them have 0 Calories and 0 fat! The Bread and Butter Chips have 25 Calories, which I assume is from the sugar. No matter which flavor you choose, you are sure to get a healthy snack…even if you eat the whole jar, like I did.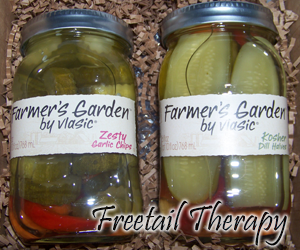 Farmer's Garden™ by Vlasic® premium pickles are made with farm-fresh cucumbers, more veggies and the homemade goodness of natural herbs and spices. Farmer's Garden™ by Vlasic® uses real ingredients – no artificial coloring or flavoring and no corn syrup – to deliver a great tasting pickle with authentic flavor and crunch everyone loves. Perfect for adding a bold kick to favorite foods or as a snack straight out of the jar, Farmer's Garden™ by Vlasic® pickles are simply delicious.
The carrots, peppers and garlic, oddly didn't hold any of the pickle flavor, so you are getting their full flavor. In the case of the garlic pieces, you can taste the garlic, but it doesn't have the punch. I think I would LOVE an entire jar of pickled garlic!
On top of sending me these 4 flavors to review, they are also giving one Freetailer 4 coupons for FREE jars!!! Enter in the Rafflecopter below, and good luck!