Review and Sweepstakes: Junior Mystery Quest – DS Game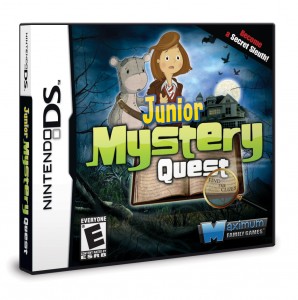 Junior Mystery Quest is the first hidden object game developed exclusively for children. Featuring hours of fun gameplay, Junior Mystery Quest takes you along a spooky and strange adventure where it is up to you to solve the mystery of the Tibutton family and their missing Uncle Albert. Kids will uncover peculiar and challenging puzzles on their exciting quest and discover just how fascinating the life of a detective can be!
I received a copy of the game Junior Mystery Quest from Maxium Family Games to review on the DS. Tester in the household include: Myself and my husband, as well as our children; male – age 11, male age – 8 and female age 6. The game itself is a series of hidden objects games with some fairly simple mini games in between. Some of which you will recognize as classic computer games, such as "Snake", a version of "Cash Cow" from Webkins, "Mastermind", "Memory" and others. Some of which, even if you got it wrong, would say that you solved the puzzle, and move you onto the next part of the story. While this is good for the younger kids self-esteem, it isn't great for teaching them that you don't always win. The story, which is non-essential to game play (since you can skip by all text to get to the next puzzle) is weak, at best. The only voice overs are the main character, Rachel, saying things like "Ooh" "Ahh" "Oh!" and "Really?" and a couple other grunting sounds more than words. Skipping the text to the story, while the background music is playing, can make the game sound more like a porn, than a child's game. This will gather you dirty looks from parents in public. Most of the hidden objects do look like the object that you are looking for, but there are some exceptions to that. Sometimes, it will tell you to find a "Hat" but there will be multiple hats available. Or it will ask you to find a "Green Plant" in a greenhouse. There is also one scenario where it wants you to find the "Rocket" so you, obviously, click on the rocket and it is incorrect. You must scroll to a different room and find where there is a Jet Plane and a Space Shuttle, and this "Rocket" is actually the Jet plane. Anytime you are looking for a "Lemon" it means you must find a pumpkin on it's side. After asking everyone in the family, nobody was able to figure out what a "Clacker" is, which is one item you must find. Even after finding it (by randomly clicking on things) we were not able to identify what it actually was. Also, the arrows to scroll to the next room/page are tiny and hard to click on without triggering a time penalty. Players get penalized in small amounts of time for clicking on the wrong item a certain amount of times. This makes it frustrating, because some objects that you positively identify, will still say that it is incorrect and lose you some time on the game. We have found that clicking a little lower and to the right of an object, has a better chance of getting a correct object on the first try. It is simple enough for the younger kids to play and you have the option of passing any of the mini games that are too tough, which is a plus for the little kids that may be playing this game. The game does not have the option of replaying it over and over, since once you have made it through once, you know where everything is and the story doesn't change. If your child has lost their stylus, this game is VERY difficult to play, as replacing it for your finger(nail) makes it damn near impossible to do ANYTHING right.
Male – 11 –  After asking to play while the other kids were playing. Once he finally got his chance, he was a bit disappointed and gave up quickly.
Male – 8 – This is our "Eye Spy" lover. They are practically the ONLY books he rents from the library, we figured he would love this game, since that is basically the gist of the main portion of the game. Unfortunately, he also gave up quickly when he became frustrated with being told he was clicking the wrong object when he was not, or when he was clicking an object that matched what he was supposed to find, yet it was not the ONE he was supposed to find.

Female – 6 – The first of the 3 to try the game and gave up quickly. At first we thought it might be because her older brothers were begging to play so much while she had it, that she just gave in, but come to find out, she just didn't enjoy the game.
All of the kids seemed more interested in "helping" another child find an object, rather than actually playing the game themselves.
After reviewing this game and deciding that it was not going to be a positive review, I emailed Maxium Family Games to let them know and to ask if they wanted me to publish my review. Their response shocked me, but I guess you know their answer, since you are here reading my review. They told me "We welcome any kind of reviews. We have actually had many positive reviews on this game, so it will be interesting to hear yours. Thanks for your honest opinion." THAT, my friends is an HONEST company! I really commend them for allowing a negative review to be published and I would love to work with them again.
With all of this being said, if you would like to enter to win a copy of this game, enter below using the Rafflecopter form.