Review: Terracycle Binder and Pencil Case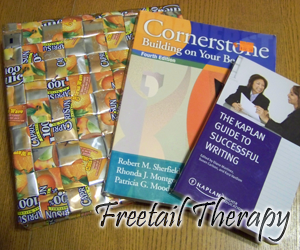 I have been in love with Terracycle items for a LONG time now. They have been "in the works" since 2001, but major sales began in 2004, with items being sold at The Home Depot and WalMart in Canada. They made their way to the US in 2005 with fertilizer and plant food. They grew quickly, and in 2007 they started making the items that I have fallen in love with, recycled waste everyday use items, such as backpacks, binders, pencil cases and folders.
In January of 2008, TerraCycle met with Kraft Foods and by February, Capri Sun signed on as the leading sponsor in the Drink Pouch Brigade, and this is where the items that I received for review come in.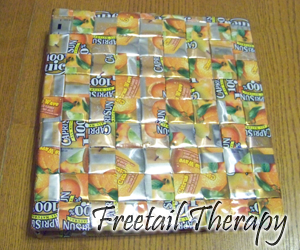 Terracycle sent me a bunch of goodies, and I am reviewing them a few at a time. This post is about the binder and pencil pouch. I have nothing but wonderful things to say about these items!
This binder was made out of recycled Capri Sun packages; Citrus Wave flavor, to be exact. The pouches were collected, cleaned and then weaved into the cover of the binder. They are wrapped around a brown cardboard binder base.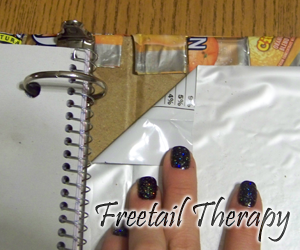 The inside liner was a little unglued on the top corner, so I peeled it back a little more to get a good look at what was underneath. I have since glued the (I think?) chip bag back onto the binder, so it stays secure.
I just went back to school, granted, it is online, but I am excited to be getting some college work done, so this was the perfect item for me right now. I get a kick out of eco-friendly items. The more useful, the better, of course!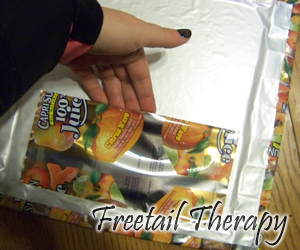 On the inside back flap of the binder, they glued a little pocket. I am not sure what to use it for though, since it isn't wide enough to hold a regular sheet of paper in it.
It might be good for small notes, or reminders, but I don't think it would be useful for much else. I also find it odd that this is on the back flap of the binder. Usually, if there are pockets, it will be on the front flap. I have a feeling that they were just trying to use up some extra scraps, and I'm ok with that.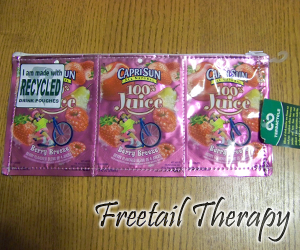 The pencil case that I received was made out of Berry Breeze Capri Sun Pouches. Six pouches were used. Two sets of three pouches were sewn together, side-by-side, ,then both strips of three, were sewn together, back-to-back. A zipper was added, as well as a tag on the inside of the pencil case. The pouch also had a sticker on it that said "I am made with Recycled Drink Pouches", but I ended up removing that, since I feel that is a bit obvious.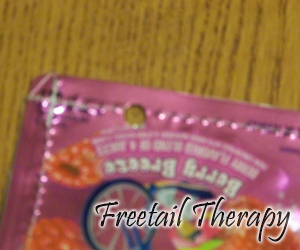 The only thing missing from the pencil case were holes, to put it in the binder. I decided to use my 3-hole punch to do this on my own. I did have to take some thread and a needle and hand sew near the holes though. If you decide to add holes, you need to do this step as well, otherwise it will just fall apart.
Securing the holes is easy, just take your threaded needle and start at the second needle hole on either side of the hole, sew them up to make an "ending" to the stitch line. Do this for each hole, to make sure the thread doesn't pull apart during use.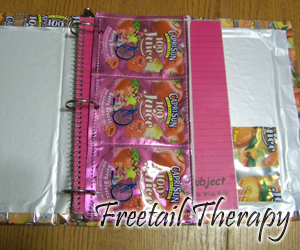 Once my pencil case had holes in it, i was able to put it into my binder. I added a notebook and some pens and I was ready to work! I also bought my books used, from Amazon for a total of $17 for both, shipping included. I like to recycle, and save money.
I am really excited to be working with Terracycle on this review. I have a few more items to blog about as well, so watch for them soon!