Review: Toe Juice ….yep, you read that right!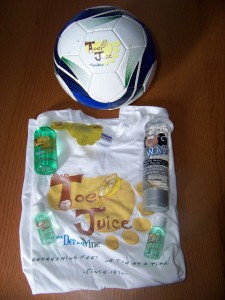 So…who wants a squirt of Toe Juice?
When this company contacted me and asked me to review their Toe Juice, I thought it was a joke. It wasn't April Fools though, so I was compelled to check out the site before I replied to the email….I mean, TOE JUICE!? Come to find out, they are not only a real company, but their products are plant based! I received a 4.6 fl oz bottle of Toe Juice and two sample sizes to give to a few of my closest barefooted friends. Also in my package was a couple of cool extras that I was not expecting, an 8oz bottle of Hog Wash (we'll get to that later), a t-shirt and a soccer ball. My kids got a hold of the ball before I could get a picture of it all, so it is a bit dingy in the picture above.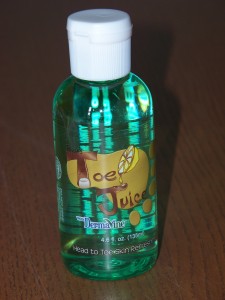 The plant based ingredients really got my attention. They use something called "DermaVine" which was created by a high school science teacher, and it contains willow bark, lemon peel, and Cinnamonum extracts. Pretty cool, huh? You can use this just about anywhere, to get a clean and refreshing feeling; like your hands, underarms (still kinda squeeked out about trying that….I'm sticking with deodorant for now), legs, arms and yep….toes! I really enjoy it for my hands, because it drys really fast, like sanitizers; and it leaves my hands feeling smooth and soft. I find that it has an odd smell that I can't seem to place, not bad, just different than what I am used to for moisturizing products. I'm sure that has to do with the plant based ingredients though. This drys fast because it does have a alcohol in it. This also means that if your skin is cracked, you will feel a sting while applying it. The sting doesn't last long, and it keeps the skin clean while at the same time, repairing any damage. Once the area is dry, there is no more stinging and your skin will feel great.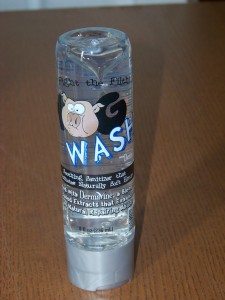 I  said that I would tell you all about the Hog Wash, so here ya go. Hog Wash is a hand sanitizer, that is infused with DermaVine, which is specially formulated to naturally promote new skin growth, leaving hands clean, soft and hydrated. This is more of a gel, whereas the Toe Juice is very much liquid. I really like the Hog Wash, it seems to get my hands much cleaner than Purel. I do have to warn you though, the first time you use this, you may be a little grossed out. Why? Because it gets rid of all the dead skin on your hands (or wherever you are using it) and as the dead skin flakes off, your hands feel a bit scaly. It's ok though, you have to get rid of the dead skin, in order to have healthy living skin. So not only does it get rid of dead skin, but it is a great plant based hand sanitizer that I feel comfy letting the whole family use.
You can buy Toe Juice (it still sounds funny to say) at Walgreens, Buy.com, drugstore.com, Amazon, and of course, right on ToeJuice.com.
Overall, I am giving the products from the Toe Juice company a 9/10, with them losing a point for the alcohol. If they were to make an all natural alcohol free version, I am sure they would get a perfect score from this eco-nerdy mama.