October Julep Maven Unboxing It Girl Nail Polish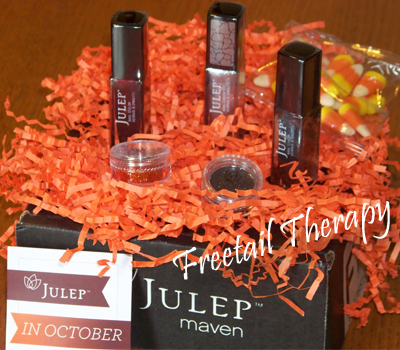 I love the beginning of each new month, because that means I get a new box of polish and other goodies from Julep!
I am an "It Girl" according to JustFab, which means that I get a box of 3 polishes. Most other Mavens get 2 polishes and 1 product. They usually add a few extra goodies in there too, this months box came with 2 little jars of glitter and some candy corn, along with the polish! The box had a nice Halloween-ey feel to it, and it really made me smile!

The colors I received in the box are called: Caroline, Glenda and Leslie. According to their site Caroline is a "Darkest burgundy shimmer", Glenda is "Black and silver specked shimmer", and Glenda is a "Radiant silver metallic crackle".
I was severely disappointed in Caroline though. I decided to stick with my regular "It Girl" box this month, because of her. She looks red on their site, I mean, even their description SCREAMS red and she looked red in the bottle when I got her.
Really, does that NOT look red? Apparently she is a dark brown…or that is what I saw on my nails.
However, when I took a close up picture, I saw the red, so I don't really understand it.
I put Glenda on my ring fingers so I could have a black accent nail and red nails for the rest of them, although, I could barely tell the difference…again, until I took a picture.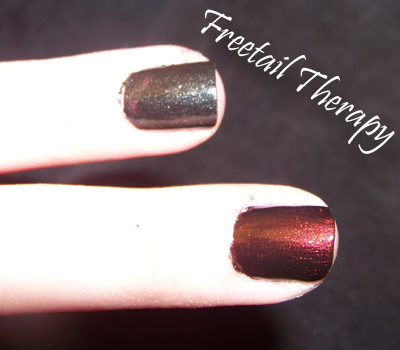 Isn't that how it always goes though?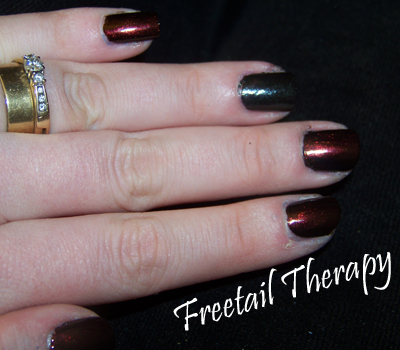 Leslie is the Crackle that goes on over your polish color, and she dries really fast!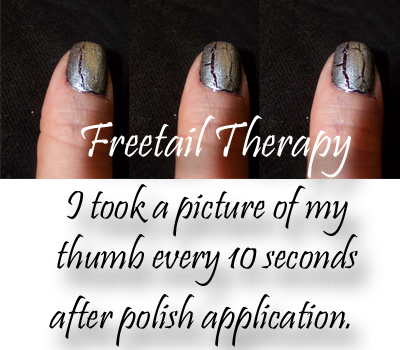 Within 30 seconds, the crackle was dry and ready for a top coat.
Since crackle chips really easily, you do need at least 1, but 2 top coats is better. This will make your crackle manicure last longer.
I just really wish my nails looked as red as they do in the picture.
Now for the good part! Did you know that you can get a box of polish for only ONE PENNY!? You can find all the details on how to do this over at my post called "$40 worth of nail polish for 1¢ SHIPPED!"