$5 off tickets to LEGOLAND Discovery Center Westchester, NY!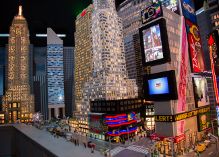 Welcome to one of Westchester's top kids attractions and one of the world's biggest boxes of LEGO bricks!

Explore LEGOLAND Discovery Center Westchester and see New York's top landmarks made out of LEGO bricks, learn secrets from the Master Model Builder, experience our indoor soft play and score big on our LEGO rides.

Ideal for children aged 3-10 years, LEGOLAND Discovery Center is perfect for the biggest fans of LEGO families! With 15 different attractions all included in the admission price, purchasing tickets online is the only way to guarantee entry to the Center as tickets are limited. We look forward to welcoming you!
I honestly had no idea that there was a LEGOLAND here in NY! As an unschooling mama of 6, I would love to take my kids there. Not only is it educational, but fun! My 2 oldest boys have a Lego magazine subscription that they look forward to every month, and they are always trying to build the things they see in the magazines. A couple years ago, I went to a blogging conference in Florida and got to visit Downtown Disney, where they had large Lego exhibits. My kids didn't get to go to that, but they really enjoyed seeing the pictures.
You can get $5 off tickets to LEGOLAND Discovery Center Westchester, NY!