Review and Sweepstakes: 39Dollarglasses.com Rx Sunglasses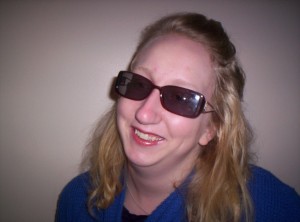 When 39DollarGlasses contacted me to do a review and a giveaway for my fans, I was in shock, I swear! I have wanted a pair of Rx sunglasses for, oh….the last FOREVER ago! They let me pick out the pair that I wanted, so I went over to www.39DollarGlasses.com and searched…and searched…and searched some more. They have SO MANY options and then on top of that, you can customize the lens and frame color, so there are even more options than you first notice. I finally found THE pair! They are called Rikki and come in either Black/White or Burgundy/Fire, I went with Burgundy/Fire. Then I got to pick the lens color, and out of the 8 available, decided on grey. Next up was to enter my Rx info and place my order. It was so simple, but I was nervous that I might have done something wrong. I've never ordered glasses online and I am legally blind without my glasses, so if they were wrong, I didn't know what I was going to do. They do have a worry free guarantee though, so that really put me at ease with my order. Even if it was ME that messed up ordering, I knew they would make it right in the end. I placed my order and then the waiting game began…one, two, three, 24…minutes had passed and I STILL didn't have my glasses. :/ I did get them 2 days after those 24 minutes though! They had SUPER fast shipping and EVERYTHING was PERFECT! They fit well and they looked AMAZING! Hubby now  laughs at me, because I have been wearing them ALL DAY LONG, even inside. What can I say, I'm in love! I'm sure you will be as well! 39DollarGlasses is offering 10% off for all of our readers right now! Just use code: FTT11 at checkout.
What do you mean 10% isn't enough? Oh, did I miss a ZERO!? Yea, I guess I DID! One lucky reader is going to win a BRAND spankin' new pair of glasses! Regular or sunglasses, winners choice, up to a $75 value! Enter through the Rafflecopter below.