Review: Gorton's "Fisherman's Friday"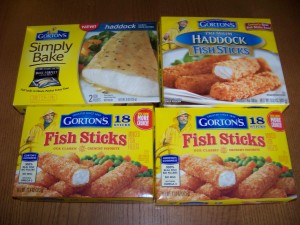 Gorton's sent me a few free coupons to review their products. I was given the opportunity to try any kind that I wanted to. Personally, I do not like Fish Sticks at all, and that is all I knew Gorton's for, so I figured I could push this review off on my kids. However, when I went to the store I found the Simply Bake Haddock with Garlic and Herb Butter, so I picked that up for myself and got fish sticks for the kids. Gorton's really is SO MUCH MORE than Fish Sticks!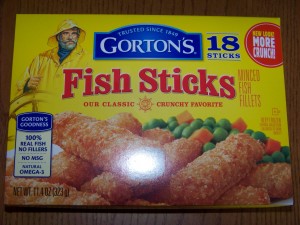 Here you see the Gorton's Fish Sticks box, the original Fish Sticks…..all I knew them for. Yea, totally not happy with these, BUT I HATE FISH STICKS! So you really shouldn't take what I say about them as the end of all reviews. My kids….LOVED THEM! It could be because I never buy them, or it could be because they were actually great. I am going to go with a mix of both.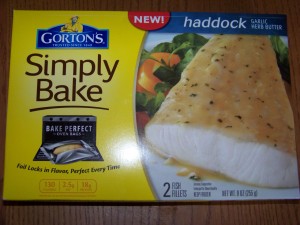 This…was what I was excited about! The Simply Bake Haddock in Garlic and Herb Butter. I made this for myself, because I honestly could not stomach eating Fish Sticks, no matter how good the quality it is.
Both the Fish Sticks and the Simply Bake took about 45 minutes to cook, even though the box said 17 – 19 minutes. This is my oven though, I am sure of it. When we bought this house, all the old appliances came with it, and we just haven't upgraded yet. We have a gas stove, that seems to take FOREVER to cook anything, we call it "Cold Fire". Hopefully someday soon, we can get a better stove.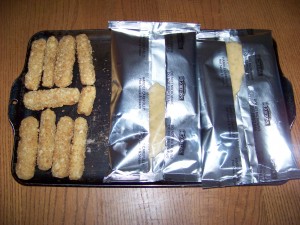 The Fish Sticks just get laid out on a cookie sheet, uncovered. After about 15 minutes, you need to flip them, so that each side browns and crisps well.
The Simply Bake was in individual pouches, 1 slice of fish in each one, and you don't have to do anything special with these, just let them bake in the juices that are in the pouch.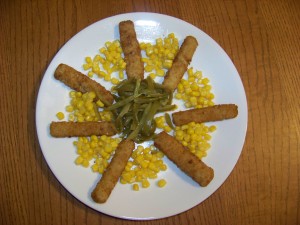 So…here is what the kids had for dinner, Gorton's Fish Sticks, with green beans and corn. They love it when I make pictures with their food. I am NOT one of those parents that tell my kids to not play with their food. As long as they are enjoying it, they will eat it, and because of that, my kids are not picky eaters. My 9 year old son, who has Asperger's Syndrome, has an aversion to seafood of any sort, but that is our "pickiest" one. When he heard we were having Fish Sticks for dinner, he groaned as usual, but when he saw this plate, he loved it and actually ate all of his dinner! That right there, is testimonial enough for me.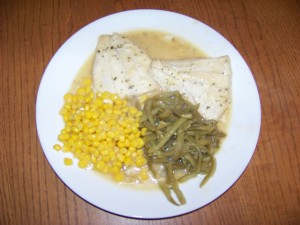 This was my dinner, the Haddock with Garlic Herb Butter. I took both of the pouches, because I felt that they were really small portions, and because I LOVE fish (just not breaded fish….) Let me tell you, I LOVED this! The sauce was light enough to still taste the fish, yet give it a good spice. Because of the pouches that you bake them in, they stayed nice and moist.
I am very happy with the Gorton's line, and I know you will be too. While I am on that subject, did you know that through May 8, Gorton's is giving away more than 100 weekly prizes on "Fisherman's Friday." They've also got a truly spectacular grand prize to give away. In total, prizes are worth nearly $10,000!
Not only that, but they have also given me some more FREE coupons for 3 of my lucky readers! Click HERE to enter!