Fluff Month: Review and Giveaway – Rockin' Green Laundry Detergent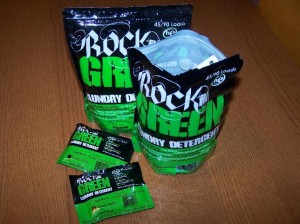 Rockin' Green Laundry Detergent is a favorite among cloth diapering mamas (and papas, I'm sure)
Rockin' Green not only kicks butt in the washroom, but it smells AMAZING! It comes in several different scents, so there is always something new to try. So the only hard part is deciding which one to try first!

Smashing Watermelons- this juicy watermelon blend is like a kick to your senses..Best Seller!
Earth, Wind & Orchids- this scent is flowered with inviting hints of tartness, floral, woods, honeysuckles and sugar. *NEW*
Rage against the Raspberry- this raspberry and honey blend will have you running around the laundry room looking for the mosh pit! Best Seller!
Mötley Cleän – there's clean and then there's Mötley Cleän. This fresh blend has hints of ocean, fresh linen, and sunshine.
Lavender Mint Revival- this medley of lavender and mint is like nothing you have heard or smelled before!
Bare Naked Babies- because we love the smell of babies, we offer an unscented variety too!
I already had Smashing Watermelons in my laundry room, but RnG sent me a bag of their new Earth, Wind & Orchids to try out. So far, I have tried those and Bare Naked Babies and they all clean wonderfully! Out of them, my favorite scent is their Earth, Wind & Orchids! It is so clean and calming! I HATE watermelon…no, not their laundry detergent…the fruit. I can't stand it, ever have. Oddly enough, I am in love with their watermelon scent on my laundry. It is more of a generic fruity smell, than watermelon, in my opinion.
You only need a SMALL amount to get your clothes clean, which is awesome!
We recommend that you start with 1 tbs for a frontloader/HE machine and 2 tbs for a toploader.  *Many customers use more or less than this amount, so use this as a STARTING point for your own wash routines*

Pay close attention to the end result. If you notice excessive staining, smells, ammonia or irritation please adjust accordingly until you get the desired result. Your final rinse should be bubble free and crystal clear, if you notice bubbles or cloudiness continue to rinse until you have a clean rinse cycle.
I use 2 tbs in my laundry, and yes, I have a top loader. My clothes and my kids diapers always come out nice and clean with just that small amount of detergent. A bag of 
Classic Rock- 90/180 Loads Remix
 costs $26.95, so each load is about 14c each. That is an AWESOME price!
RnG is made out of earth friendly ingredients that are ultra safe for baby's bottom.
Rockin' Green is made of safe, phosphate free ingredients which makes it good for the planet and gentler on your little ones. Everything is made with love, and put to the test every single day on my own families diapers and laundry. So you know that I expect only the best from everything that I send out the door.

Ingredients: sodium carbonate , sodium percarbonate, natural chelating agents, sodium sulfate, biodegradable surfactants, natural fragrance oils (if scented is chosen)
And they are cloth diaper safe!
I do have ONE issue with RnG though, and really, only 1. It is their bag. I have a hard time keeping it closed and I was afraid it would get knocked over and I'd lose all my precious detergent all over the floor. So, I improvised! I had a couple of these toilet paper holders, because they were on sale for $1.99 with $2 Extra Bucks back at CVS. Each RnG bag has a clear label on it with the scent, so I carefully peeled that off of the bag, cut it so only the scent name was there and stuck that on the lid. My bag perfectly filled the plastic toilet paper holder tub to the top. It would be nice if RnG offered their own refillable tub, but this is a perfect fit, so I will continue to use it, since zipper bags don't seem to want to ever close for me.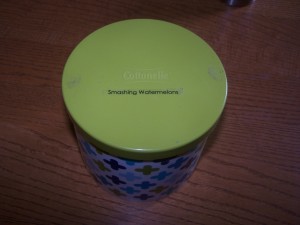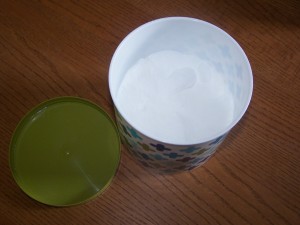 RnG isn't just for diapers! They also have a special Mama Cloth formula, which I have yet to try. I hope to try it soon though, and when I do, I will most definitely tell you how it works out.
Coupon Code: MayRocks will get you 10% off until the end of the month!
Rockin' Green will be offering one of my readers a bag of their laundry detergent, just fill out the Rafflecopter form to enter, and come back each day for additional entries! Good luck!