Repp-Striped Tie Collection by Puccini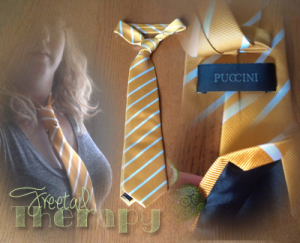 Puccini sent me this tie to review. Sadly, they didn't give me an option on color, and I really don't like this yellow. It doesn't go with anything we own. This was supposed to be a tie for my 10 year old, who LOVES ties, but with no color option, he lost out.
The tie is really well made, it is constructed of high quality materials, and you can't see any stitching. I like the fact that there is a loop on the back to hold the end of the tie in place, and not have to pull it through the name tag, or just leave it flapping in the wind.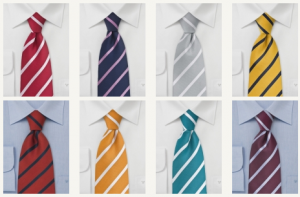 We really loved the color of the Oasis Blue & White Striped Tie (Bottom row, third from the left) and the Aubergine Purple & Berry Pink Striped Tie (Top row, Second from the left), and those would have gone with almost anything my son wears.
These ties are 3.25 inches in width and 58″ in length, and only $9.90 each, which is a great price for the quality! I just wish that their customer service was as good. They didn't allow me to return the one we received for one that I could actually use.
We received the Amber Yellow and White Striped Tie. It is suggested that you contrast the bright golden-yellow color with a dark navy suit, white shirt, and chocolate brown dress shoes. It is made from stain resilient microfiber.