Dial Body & Hair Wash for Kids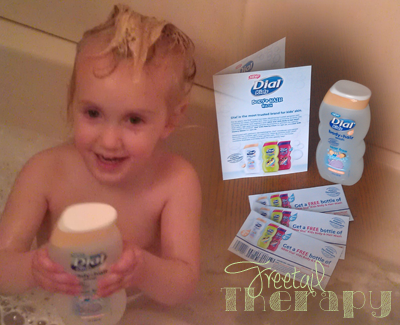 For 65 years, the Dial brand as been developing trusted personal care products for clean, healthy skin. Dial is excited to announce its entry into the kids' personal care segment with NEW Dial Kids Body & Hair Wash that offers age-appropriate variants developed to address the specific skin needs of children, and they enlisted Freetail Therapy to help spread the word!
We were able to check over here on the quality of the newest product they've released since we were sent a bottle of their Dial Kids Body & Hair Wash for ages 2+ in Peachy Clean scent. It smelled delicious! I don't normally like peach scented things, but this one seemed to actually smell like a peach, instead of having that fake peach scent. I am not even sure if that made sense, but I think there is a HUGE difference between "peach scent" and"peaches" so this was a plus for me.

Each day, my two youngest kids start the day with a bath, while the other 4 take a bath or shower at night, after school. This showed up on our doorstep as I was filling the tub, so we put it to use right away. It says it is tear free, which is what we always use for our kids shampoos. It didn't have many bubbles or suds, which gave me an indication that it was a fairly gentile soap, since suds tend to mean harsh chemicals. The issue was when we went to rinse it out of their hair. Both my son and daughter cried and said it hurt, and began rubbing at their eyes. This isn't something that normally happens for us, so I am pretty sure that this isn't tear free, as advertised.
While it smells nice, and cleaned well, I don't think I will be using it on the younger kids anymore. I will save it for the older ones who know how to keep the soap out of their eyes, or for myself, because I really do like the scent!
Check back for a giveaway!