Fluff Month: Cloth Diaper Safe Rash Treatments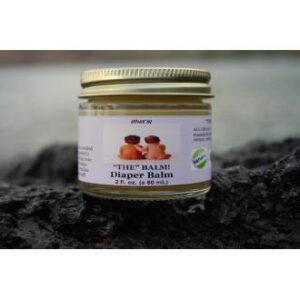 It happens at least once in every baby's life, and it always looks painful! Diaper Rash. OUCH! Diaper Rash is found less in children who wear cloth diapers, and if found, usually is fixed with a simple laundry detergent change. Unfortunately, when a rash occurs, you can't use just any diaper rash cream. Most of them will stain your diapers, and frankly, there are healthier and less messy options than Desitin and A&D.
Taylor House inc. (THinc.) sent me a jar of their "THE" BALM! © Diaper Balm / 1st Aid, which can be used on scrapes and sores of all kinds. Also, it isn't just for baby, I love it around my nose when it is raw from tissue wiping. My oldest son liked it on the scrape he got while fishing, and I of course put it on my poor little baby girl who woke up with a rash because her diaper went into the wrong load of laundry.
Only a TINY bit of this is needed, it sort of melts down as you rub it in and slathers all over in a nice even layer. The first time I used it, I used too much. The consistency of the balm is very thick, so I thought I needed a lot to get it all over, and then it melted down and I had FAR too much! So, now I'm using a little less than a finger tip amount for her whole diaper area, and even less for scrapes and noses.
With the tiny amount needed, this jar will last a LONG time! It comes in a 2oz glass jar. I have used it multiple times and I still haven't scraped the whole top layer off.
Made of a strong infusion of the earth's most healing herbs into Hawaii's most healing oils, our diaper balm is "THE" BALM! Made in Hawaii, a lot of Aloha went into this balm with little ones in mind! Use this balm on everything from diaper rash, eczema, newborn skin, cradle cap, sunburns, bug bites & more! Cloth Diaper Safe, Organic, Vegan & 100% NATURAL!
Luckily we haven't had to deal with any sunburns yet this year, but I will for sure be trying it out if it happens.
They also sent me a bottle of "THE" BALM!© JUICE those WIPES concentrate, which smells JUST LIKE orange juice! It makes my mouth water!
Our Natural Cloth Wipes Juice Concentrate is formulated with Taylor's liquid soap to be sure all those parts get clean! We blend herbally infused oils & yummy essential oils to moisturize and smell good! Even in the most humid climates, where bacteria breeds, our wipes juice will not go bad! Perfect for changing baby's precious bottom, or as reusable "wet ones" for wiping hands & faces!
I use an old Pampers wipes plastic container for my cloth wipes. For their wipe solution, you just add 1 teaspoon to about 2 cups of water, then pour it all over the wipes in the container. Super Simple and smells AWESOME!
These sell for a total of $23.90, but one lucky Fluff Month reader will be getting them for FREE thanks to THinc.! Enter in the Rafflecopter below, and come back for your daily entries!