72 Hour Bug Out Bags – Food Kit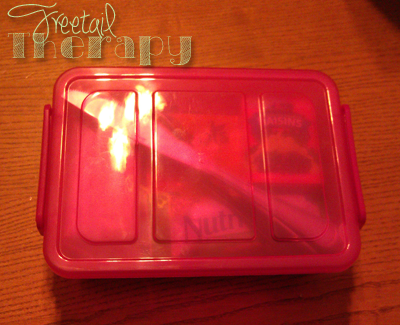 When an Emergency strikes, you should already be prepared. Each family member should have a Bug out Bag (BOB) ready to go, packed with everything needed to sustain a person for at least 3 days (72 hours). If you can set up a kit to sustain longer, more power to you, but the first 3 days are the most critical, and you really need to make sure you are set for at least the most important time after an emergency.
You can buy pre-made kits, but often, you will find that the "food" in them are bars, usually tasteless or even worse, horrible tasting! This is why I set up food boxes for our kits. We have 1 box for each day, and 3 boxes in each bag. I also included 2 bottles of water and a bottle of Vitamin Water, along with a Brita Filtered bottle, so we can use whatever water is available and make it clean to drink.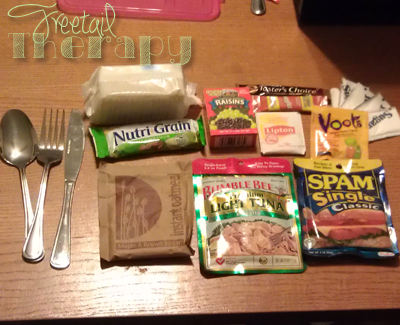 Each box contains enough food to sustain a person for a full day, including snacks. These boxes should be updated twice a year to account for expiration dates. In our boxes, I have included the following:
Breakfast – Oatmeal

Lunch – Tunafish and crackers to make sandwiches
Dinner – Spam and crackers to make sandwiches
Snacks – NutriGrain Bar and Raisins
Drinks – Instant Coffee, Instant Juice and Tea
Extras – Voots Chew-able Vitamins* and Sugar (for coffee or tea)
Utensils
I want to add Individual Mayo Packets and Individual Powdered Creamers for coffee. I just need to find a good deal on them.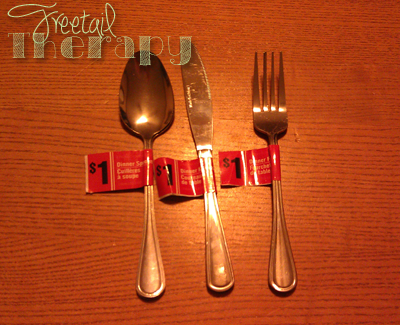 We found silverware at the Dollar Tree, in packs of 2 for $1. Originally, I had plastic forks in each box, but we decided that we needed something stronger that could last longer, so it was worth the investment for the silverware. You could also save a little room by packing a spork instead of both a spoon and a fork, but if you are a regular reader, you already know my fear of sporks, so that isn't happening in this house! The last thing I want to deal with in an Emergency is an panic attack over some mutant utensil love child of a fork and spoon!
Anyway! You would want to pack the two boxes that don't have the utensils in them on the bottom of your bag, to make sure the utensils are on the top for quick and easy use.
*Voots sent me a box of their chew-able vitamins to review, and I fell in love with the individual packaging aspect of them. The minute I saw them, I knew that I would be putting them in our BOBs, because Voots Veggie Fruit tarts provide the Vitamin C antioxidant power of three servings of fruits and vegetables and pack light. They are perfect for this! There is no color, artificial flavors or preservatives in them, which is a big plus for me. They do, however, contain gluten, so I have not attempted to take them on a regular basis, due to the migraines I get when I ingest gluten. I have tried one, to get to know the taste, and I will admit that they taste good. Kids would think they are candy, and shouldn't be upset about taking them. If an emergency were to hit, and I needed those vegetables and fruits, I would take them. With my gluten intolerance I might take them every other day, or every 3rd day, just to keep the gluten out of my system as much as I could, but I wouldn't let such a valuable resource pass me by.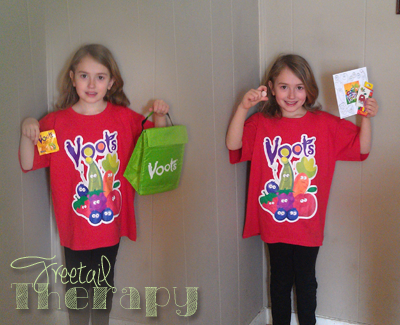 My kids love the Voots! They all said they tasted good, and my 2 year old asked for more. Try telling a 2 year old she can't have more fruits and veggies and that she is limited to 1 packet a day…..really…try, cause I am having a hard time doing it and need your help here!
Voots gave is a box of their individually packaged veggie-fruit tarts. There is 45 packets in the box. They also sent some other fun goodies, like temporary tattoos, a lunch box, a t-shirt a magnetic photo frame with crayons so your kids can color it.
They will also be sending this same kit to a lucky Freetailer! You can enter to win below.