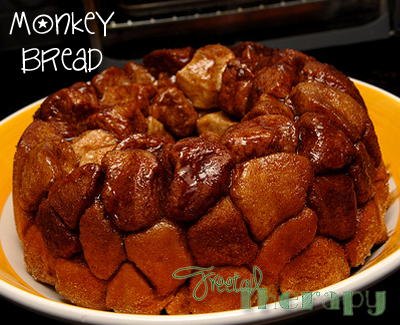 Some rights reserved by closari
Each day we post a recipe at around 10am EST. Check back daily for new fun foods!
Monkey bread
Author:
Ingredients
4 cans refrigerated biscuits
1 c. brown sugar
1/2 c. butter
1/2 tsp cinnamon
1/4 c. brown sugar
1/8 tsp. cinnamon
Instructions
Preheat over to 350. Mix 1/4 c. brown sugar & 1/8 tsp cinnamon. Cut biscuits into 1/2″ pieces & roll into balls. Dip in cinnamon sugar mix & place in bundt pan. Combine 1 c. brown sugar, butter, & 1/2 tsp cinnamon in a saucepan & bring to a boil. Pour over biscuits & bake for about 25 minutes.
3.1.09