My son got new glasses! HUGE Savings Inside!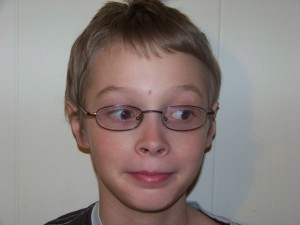 My son is HORRIBLE with his glasses! They get scratched up so easily, and these things are NOT cheap! If he doesn't get them scratched up, he leaves them within reach of his baby brother or sister and off comes an arm….UGH!
Glasses are usually around $100 a pair, and I just can NOT shell out a hundred bucks every 3 months because he can't be responsible enough to take care of them properly. He is getting better at it though, the last pair lasted 4 months….
I wanted to tell you about 39DollarGlasses. They offer a lot of variety in frames and they start at….you guessed it, $39! MUCH better than $100! I'd still not want to pay $39 every 3 or 4 months though….hopefully he continues to improve.

I ordered his glasses and let him pick out the frame. I was really surprised when they arrived at our house 2 DAYS after I ordered them! I picked the First Class Shipping option, so I thought it would take about a week!  I will be ordering from them again, I promise you!
Save $12 off any purchase from 39DollarGlasses.com by using coupon code "Twitter"
So, what do you think of his new glasses?