Prepping and Long Term Food Storage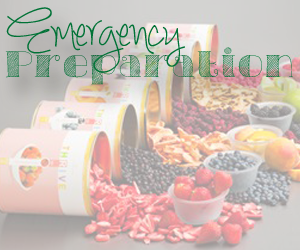 With a family of 8, plus my mother to watch out for, prepping is very important to us! We have many goals ahead, and when we hit one, we immediately start working on the next one. Couponing and stockpiling is only 1 part of how we prepare. We like to stockpile long term storage food as well, and this means spending money, which I HATE to do. Sadly, it is a necessary evil, and in the case of food, you need to know that what you are buying, is going to last!
You can't store canned food for very long, yes, longer than the expiration date says, but not 25 years or more. This is why we like freeze dried and dehydrated foods, you can store them longer. If you grab a bucket of food each month, it will really start to add up and as long as you don't touch it, except to try a different flavor to make sure your family likes it, or in case of an emergency, your long term food storage stockpile (say that 5 times fast!) will grow to the point of not needing to worry about the future.
Check out the deals we found, and be prepared!
Original Price: $635.00
Sale Price: $454.99



Original Price: $975.00
Sale Price: $699.99




Original Price: $1,839.99
Sale Price: $1,349.99



Original Price: $2,900.00
Sale Price: $2,099.99



Original Price: $3,450.00
Sale Price: $2,499.99



Original Price: $5,370.00
Sale Price: $3,899.99



Original Price: $6,300.00
Sale Price: $4,599.99


Make sure to check out all of our Prepping tips and deals. I co-own Prepping for Zombies so you will see some of my deals over there too. Give the facebook page a like and follow along!