Dukan Diet Turkey Jerky Review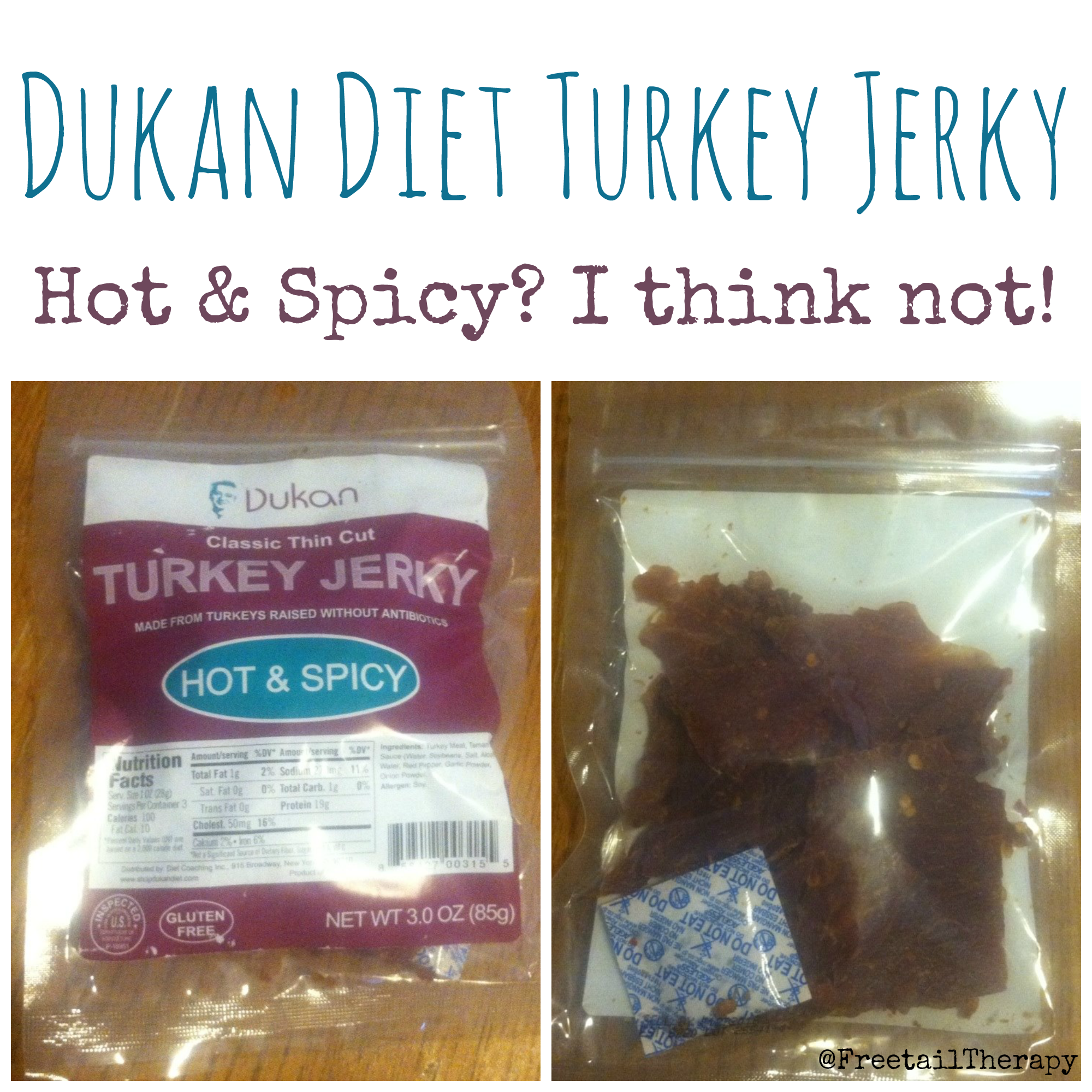 The Official Dukan Diet Store sent me a bag of their Hot & Spicy Turkey Jerky to review. The 3oz. bag comes in two flavors, Original or  Hot & Spicy ($6.69/bag) and is packed with 19 gm of filling protein per ounce, has less sodium than most other brands on the market, no added MSG, sugar or nitrates and is gluten-free. The entire ingredients list only consists of six items (Turkey Meat, Tamari Soy Sauce, Water, Garlic Powder, Onion Powder and Red Pepper in the spicy version), but the best part is that you can eat as much as you want, because on the Dukan Diet, dieters can enjoy UNLIMITED amounts of pure protein and vegetables found on the 100 approved foods list!
I got to pick which flavor I was to receive, so I picked the Hot & Spicy. I generally LOVE the fire of a Hot & Spicy food. When it arrived, I was all excited for the burst of fiery flavor. Unfortunately, I was disappointed in that department. It was neither hot, nor spicy, but it WAS delicious! I ate the whole bag in one sitting and hoped more would appear. I wish they had sent me the original as well so that I could have compared them, it might have brought out the spicy flavor if I tasted the original as well, but I am not sure.
I have had turkey jerkys before, and I have found them to be too moist. I like my jerkys to be dry and chewy. I was glad to find that this wasn't like other turkey jerkys there, it was still fairly moist, but not so much that I couldn't consider it to be jerky.
I am not familiar with the Dukan Diet, as a matter of fact, I hadn't even heard of it until now. I am not a diet person, I eat what I love and luckily it is mostly healthy, but if you want to know more about the Dukan Diet, you can check out their site.
Overall, I enjoyed the turkey jerky, but I can't call it Hot & Spicy.