Review: Classic Platform Round-toe Pumps from Oasap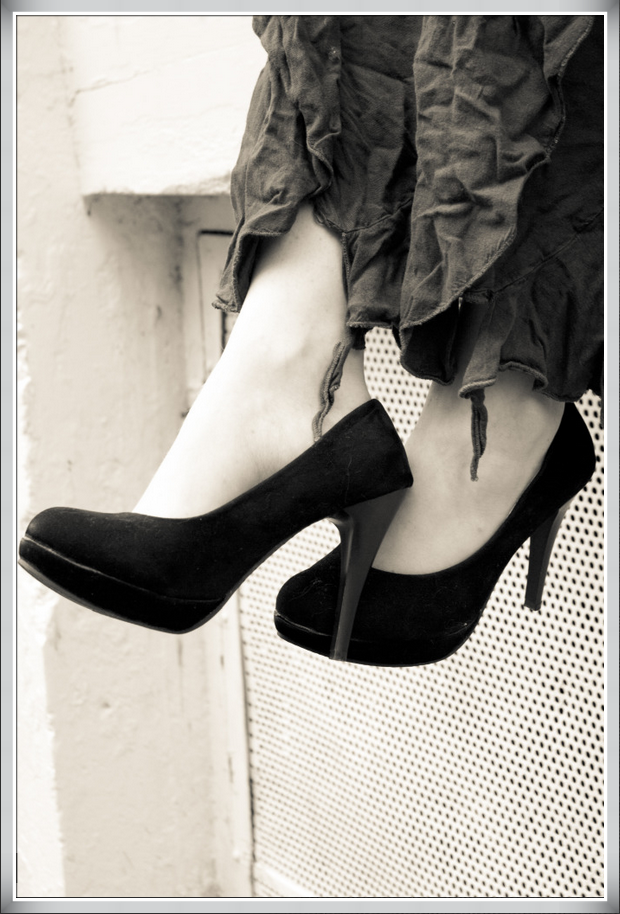 I am heel inept! I want to learn to walk in them so bad, and I am making it my goal to do just that. Oasap sent me these Classic Platform Round-toe Pumps to review, and I think they are just beautiful!
My friend over at Jessica Forgette Photography, took this picture of me wearing them at a local park. I think she did a GREAT job, I actually like it so much, that I want to get a canvas of it and hang it in my office.
The shoes have a felt feel to the outer fabric, the texture is interesting, I really like it compared to the usual gloss pleather that you find in many heels. The heel height is about 4″ and the shoe has about a half inch platform built into it, making the heel actually 3.5″. The inside of the shoe is comfortable, it has a nice squishy insole to it, so I was able to wear these for long periods of time.
I have had these for almost a month now, and things are starting to go wrong with them. The sole on the left shoe is coming undone from the shoe, I could just glue and clamp it back together until it dries, but I wanted to tell you about that issue. Also, the bottom of the stem on the right shoe is wearing down at an odd angle, and I am afraid that if I step on the stem, it will break. I plan to file it flat again, in hopes of fixing that problem as well. I believe it is the way that I was walking on them though, I don't think that is a manufacturer issue.
The shoes are true to size, I ordered a size 8, and I have wide feet, but these fit me perfectly. They are easy to wipe clean if you get them dirty, just use a wet washcloth and gently rub any dirt out of the material.
Even with the few flaws that I found, I do really like these shoes, and plan on getting them in Peach color.
Check out Oasap and let me know what you think of these heels in the comments below.
Please

and RT
Review: Classic Platform Round-toe Pumps from Oasap… fb.me/OTmmnwWi

— Freetail Therapy (@FreetailTherapy) July 31, 2012

Thanks!