Stretch 2 roasting chickens into 10 meals!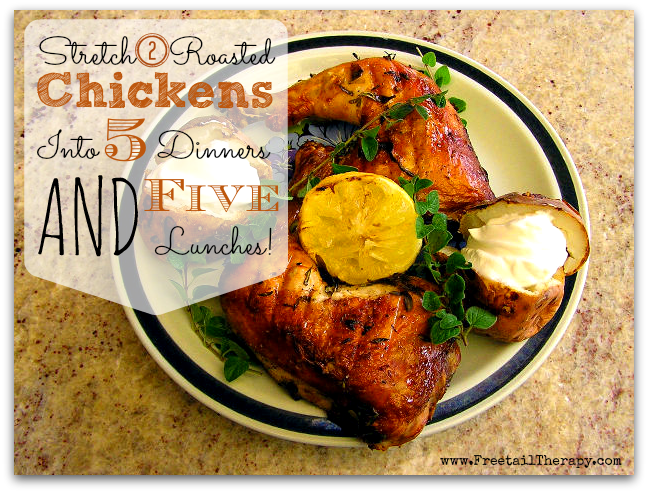 Whole roasting chickens are always a great deal. You get a ton of usable parts, and they're usually pretty dang cheap. My store had them on sale for .77 a pound last week, so I grabbed two. I like to roast two at a time – twice the meat for half the energy bill.
This is the recipe I use "Roast Sticky Rotisserie Chicken" and it's a family favorite. I pretty much follow the recipe exactly, but don't add the cayenne, my son is not a fan of spicy. I add a little chili powder instead – gives a little spice, but not any heat.
I defrost the birds in the fridge over night, and clean, dry, stuff and season them first thing in the morning, Wrap them in foil and let them sit in the fridge till it's time to cook, usually around 1 pm – that gets them done around 6. In winter, I'm happy to have the oven on that long, cuts down my heating bill, but in the summer, I bust out my big electric roaster, set it outside and plug it in.
We'll just have roast bird with buttered garlic rice and pan seared veggies for supper tonight, and there will be a ton of leftover meat.

Here's how our week will go, to use up the last of the roasting chicken:
Tuesday: Roast Sticky Rotisserie Chicken, garlic buttered rice, pan seared veggie
Wednesday: Thai Chicken Lettuce Wraps  (I'll add some leftover rice to the mix so it's an all-in-one meal)
Thursday: Chicken Empanadas, beans, salad
Friday: Curry Chicken Wraps, fruit
Saturday: Chicken tortilla soup
By Saturday, I'm sure we'll be sick of roasting chicken, so what's left I'll pick off the bones and freeze in meal size portions, and then I'll simmer the carcass for stock, which I'll freeze in ice cube trays.
So let's do some math. The birds were 4.77 and 5.03 each. That's $9.80, and I've gotten 5 dinners, 5 lunches, at least a gallon of stock, and a little extra meat for the freezer out of it. For my family of 8, that works out to 80 plates of food! Yes, you have to beef it up with fruits and veges, but that's perfectly fine by me. No meal is complete without vegetables anyway.
Yes, it's more work than boneless skinless chicken breasts, but 1 bag of those costs $9.50, and I get THREE meals out of them, with no leftovers.