Nutrena Tour D' Cluck Chicken Chat 2015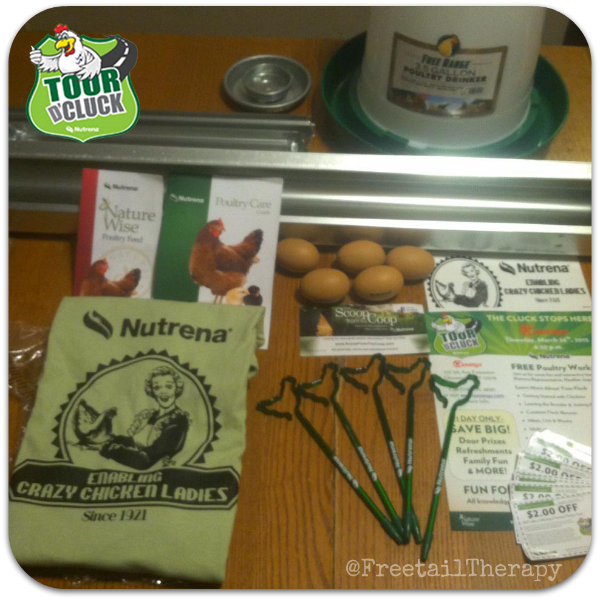 Earlier this week, we found out about the Tour D' Cluck Chicken Chat that was being held at our local Runnings store. Since we recently got 18 chicks, everyone was really excited to go and learn a bit more about them, plus the kids wanted to get some prizes! We were not expecting much for prizes, so when we were given the stress eggs and pens, we were happy. We all grabbed some cookies and soda, then filled out the tickets for the door prizes and sat down to listen to the presentation.
The workshop was hosted by Heather Jaquay, which is a representative for Nutrena. She gave us info on how to set up a brooder (a baby chick nursery if you will), taught us about molting and had a wealth of info on different stages of life for chickens. Of course she spoke about the different chicken feeds that Nutrena offered. Our rabbits already eat Nutrena Nature Wise Performance pellets, so it is just natural that we would go with the same high quality feed for our chickens. She gave us a bunch of coupons that I fully intend to use. They expire on 12/31/15, so we should have plenty of time to stock up.

On top of the cool little gifts that we got when we arrived, we won some door prizes as well! My husband won the t-shirt, I got a hanging water bucket and my oldest 3 kids received a large metal feeder, a small metal feeder and a metal feeder for chicks! It was a fantastic night! Also available were pamphlets of info on chicken care, so we grabbed some of those too.
These workshops are being held in many locations, so if there is one near you, I HIGHLY recommend checking it out! HERE is the list of upcoming workshops.