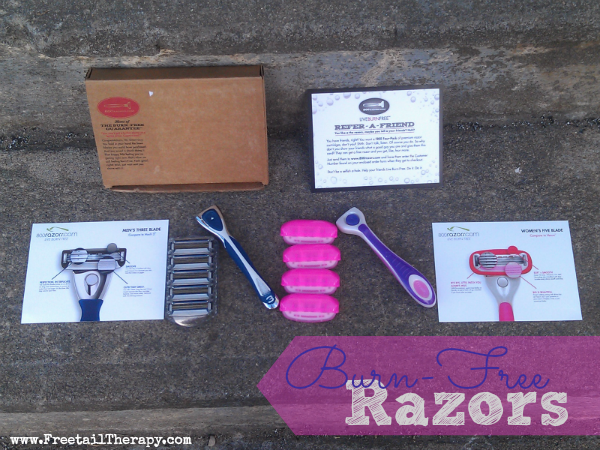 Razors are such a money suck! This is the reason that I am not brand loyal in any way. I will always go for the cheapest razors, as long as they don't rip my skin to shreds. Zombie legs aren't attractive! Sure, we can save with coupons and yes, there are even subscription boxes for razors that will send you replacement heads every month, but that also means a monthly fee. What if I don't want to pay something every month? I can string along my razors for a good 6 months without having to replace the head, so paying every month isn't feasible for me.
When 800razors contacted me and asked me to try their razors, I quickly agreed! With 800razors, you can order a package and you only pay once, you aren't locked into a monthly fee, and you won't get charged again until you re-order. They have different sized packages, with different blades, and you pick what suits you best. They sent me a male and female package, so both hubs and I could try them out. We both received a new handle that fits the heads we were given. I got 4 heads and hubs got 5. Mine had 5 blades and hubs had 3. Mark usually shaves with 2 blades, and has been stubborn at bumping that number up, so I admit that I was a little concerned that he wouldn't even try these, but I told him that he had to "for the blog" and he's sold! Apparently that extra blade really DOES serve a purpose, who would have thought?!
We both received a
package valued at $9.99
, so you can see how much money can be saved there. It gets even better when you go up in package size. Grab the largest package, and it will last anywhere from 6 months to a year or two depending on how often you shave and how well you take care of the blades, and cost less than $40!

I really like these razors, and feel that they are comparable to national brands. I have been using mine for almost a month now and the blades are still sharp. I haven't had to replace a head yet.
If you are planning on ordering, make sure to use coupon code SHAVE5 to take $5 off your first order!