So, you already know I am a shoe freak, but did you also know that I am a polish addict? Well, maybe you do, from when I told you about the AWESOME deal I got on
OPI Pink of Hearts
, which is a Breast Cancer Awareness color pack. I scored them for FREE, cause, my love for shoes and polish won't stop me from getting a great deal too!
I am joining Finger Painting Fingers in their "Go Pink Wednesday" Challenge, yea, I'm a little late to the game, they started 2 weeks ago, but I didn't know about it till just now.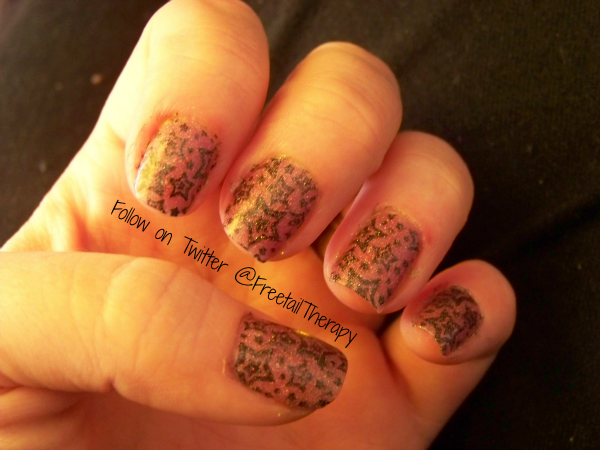 I am calling these "Rock Star nails" because if you have ever been touched by Breast Cancer, whether you have it, have had it, or have a loved one who has, YOU are a Rock Star for hanging in! It takes a really strong person to go through this, and my heart goes out to everyone who has been affected by it.

To start off, I used my Duri Rejuvacote for a base coat. Then added 2 coats of Wet n Wild Fast Dry Nail Color, Hannah Pinktana. Once that was dry, I stamped stars on them using Cheeky Plate CH51 with Leslie, by Julep, which is a black with sparkle in it. I added another layer of Wet n Wild Fast Dry Nail Color, Hannah Pinktana, and then a layer of OPI Nail Polish, Top Coat.
Also, if you head over to Julep, you can grab an Intro package for only 1¢ SHIPPED when you use code "FREETAILTHERAPY" at checkout.