#BlogHer12 – Blogger Bash: Review and Sweepstakes – Corset Chick $30 value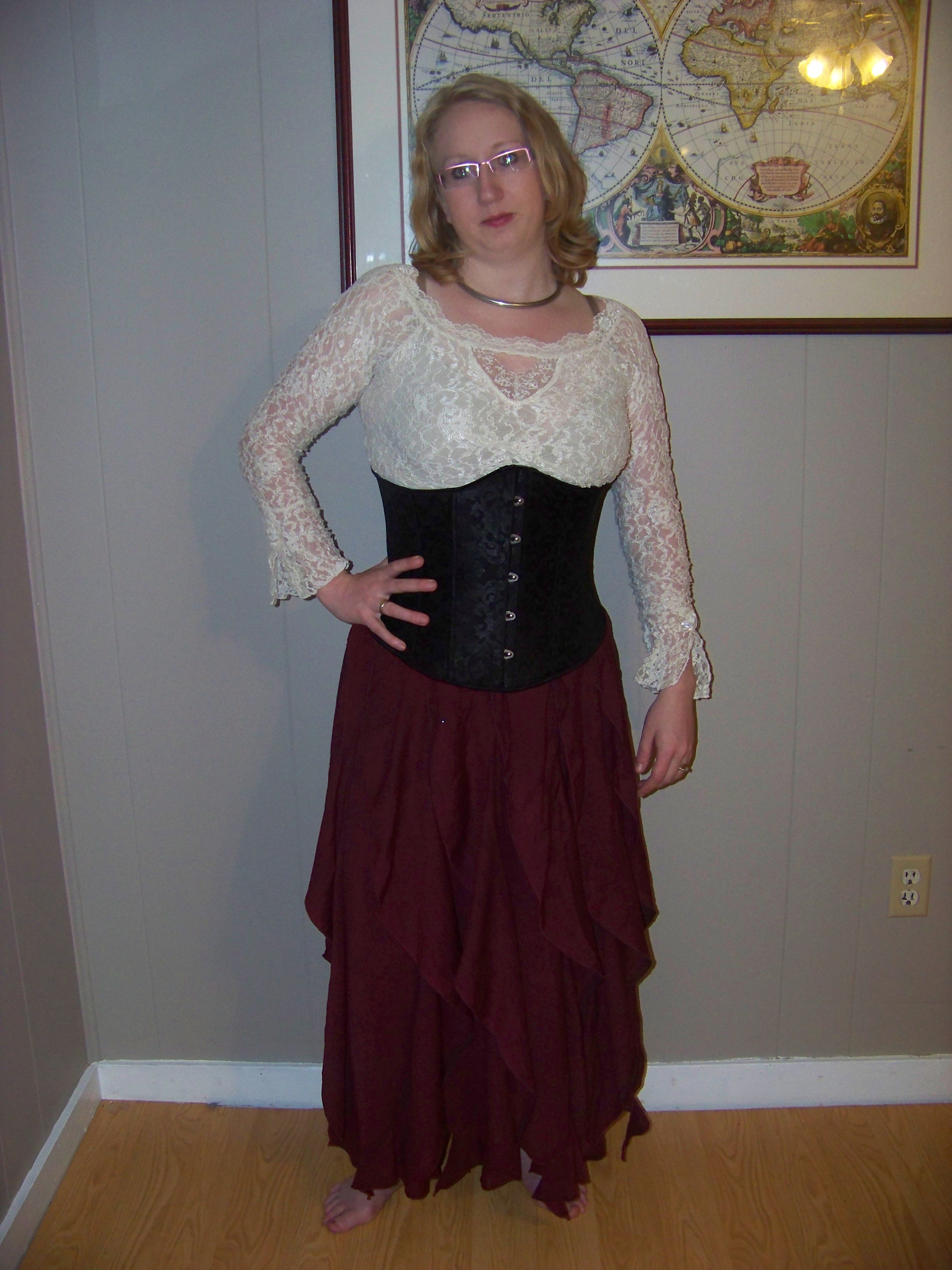 Corset Chick sent me this Black Swirl Underbust corset to review, and I must say…I thought I was a corset fan before, but THIS seals the deal! Not only is it high quality, with a steel busk closure (my favorite type of corset closure), but it is low cost as well! This corset is only $24.99! I don't know how they manage to make such a great product at a price like that! I usually see price tags of around $60-$80 for something like this.
This is the first underbust corset that I have owned, and I think I am never going back to a full corset. This was very comfortable, even when tied as tight as we could get it. usually I want out of my corset in under 30 minutes, but I was able to wear this all day long, without breathing issues or pain. It actually made my back feel better when I wore it.
When I was searching for a review item on their site, they only had 2 underbust corsets, but they have since added a bunch more, and I am already spending my next paycheck in my head.
I love how this corset makes me look nice and curvy, while at the same time, pushing by bust up in a way that underwires just can not do.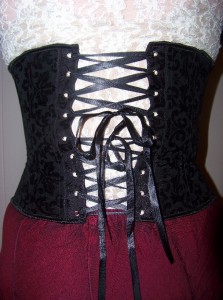 Their corsets do run VERY small though. I am normally a medium, but he warned me that they ran small, so I ordered a large, and I feel like I could have even gone with an XL. Some corsets have a flap of fabric in the back that is sewn on the inside of the corset and covers your back where the laces are. This one, however, did not have that. That is the only thing that I didn't like about this corset, but it isn't a deal breaker for me.
The tie strings don't look like they are very high quality, but they sure are. They can take a LOT of tugging, and they stay tied with a simple bow.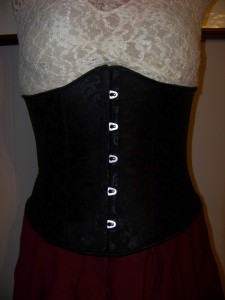 I've found that when you are trying to get a corset on by yourself, it is best to take the strings in the back, loosen them as much as possible, then tie them at their loosest point. Then, clasp the busks in the front, all the way down. Finally, untie the strings and pull them tight. Tug a few times until it is tight enough for your liking and tie. Of course, this comes easier as time goes on and you have been wearing corsets for a while, but it is far easier than trying to keep the strings tied at the right size and sucking your belly in to clasp the busks.
I really like how this is cut higher in the back, and lower in the front. After having 6 kids, I have a bit of a belly, but the fact that the front panel comes down so low, it really tucks me in well.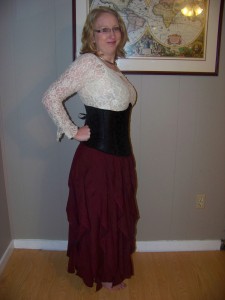 I am very impressed with the quality of this corset, and I highly recommend Corset Chick if you are looking for a cute corset for play, Renaissance Festivals, or just to rock out at the grocery store. They have so many different styles and designs that there is sure to be one for you, and you really can't pass up those prices!
You can enter to win a $30 gift certificate in the Rafflecopter below. Good luck!