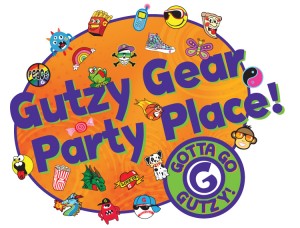 I was given the opportunity to throw a party for some local kids, from Gutzy Gear. This isn't the most financially sound city in New York, and there are many kids here who don't get new school supplies, clothes or other such things each school year, so I like to help out where I can. With the help of Gutzy Gear, I was able to invite some neighborhood children over for a "Back-to-School" party, where they would have lots of fun, and take home an awesome new product that they otherwise would not have the opportunity to own.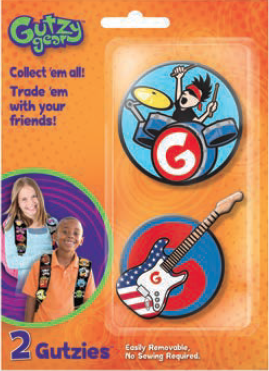 Gutzy Gear
provided fun games to play, such as Dominos, where the kids ran around the yard, looking for the next picture on their card. There were two teams, and the team captains started with one picture, and then the teams had to find that picture, from all of the the papers that were face down on the ground (we put a rock on each of them, so they wouldn't blow away). They were instructed to look at the pictures, but if it was the wrong one, they had to flip it back over so nobody could see it, and continue to look until it was found. It was a large game of memory. Before the teams could look for the next picture, they had to run the previous picture back to me. It was great, I had them running all around the yard.
It was a really hot day, so after that game, to cool down, we played water balloon toss, and if their balloon broke, they had to sit down and wait until the game was over, so you can see my daughters pouting next to me.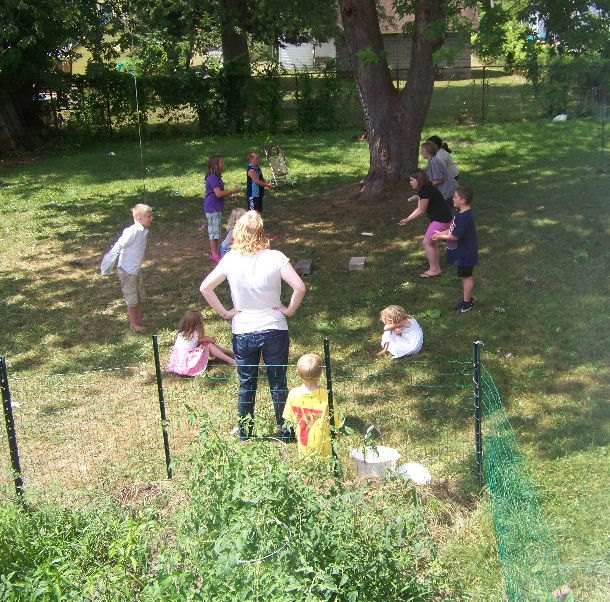 Whether it was a team event or a game where everyone was on their own, the winning people would each get a token. At the end of the games, the person who had the most tokens, got to pick their Gutzy Patches first.
Before we began picking out patches, each child got a set of straps for their backpack.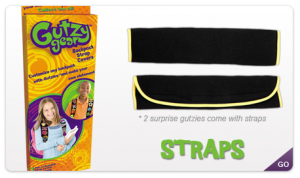 The great thing about the patches, is that they are velcro, so no sewing is needed to put them on the straps, and kids can trade them like cards.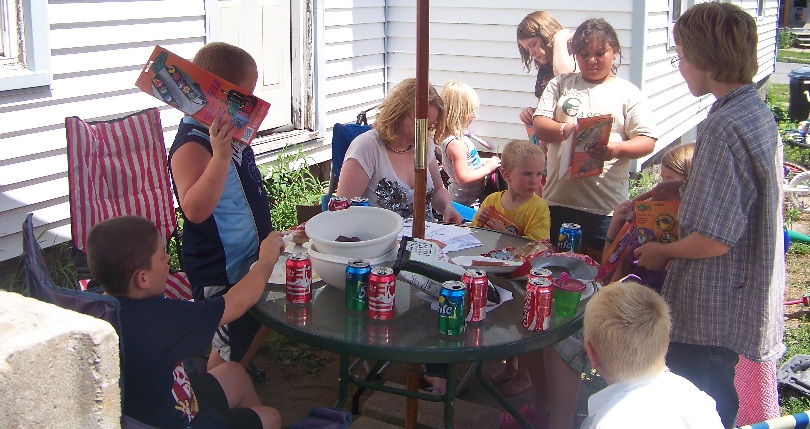 After everyone picked their patches out, we played a game of Bingo, Gutzy Style! Part of the party pack was Bingo cards and tokens for calling. So I would call out the patch that they were to look for, and show it to everyone and whoever got a straight line all the way across (diagonal, horizontal or vertical) would win a special prize. I had filled a backpack with a bunch of school supplies; notebooks, paper, pens, pencils, crayons, Gutzy Gear, a Binder and some other things. Once we had our winner, I then handed all the kids a binder with a notebook and folder in it, which had a Gutzy Gear flyer in the clear front cover of the binder. I thought it was a nice touch, and I had all of this stuff in my stockpile, so it didn't cost me anything to do.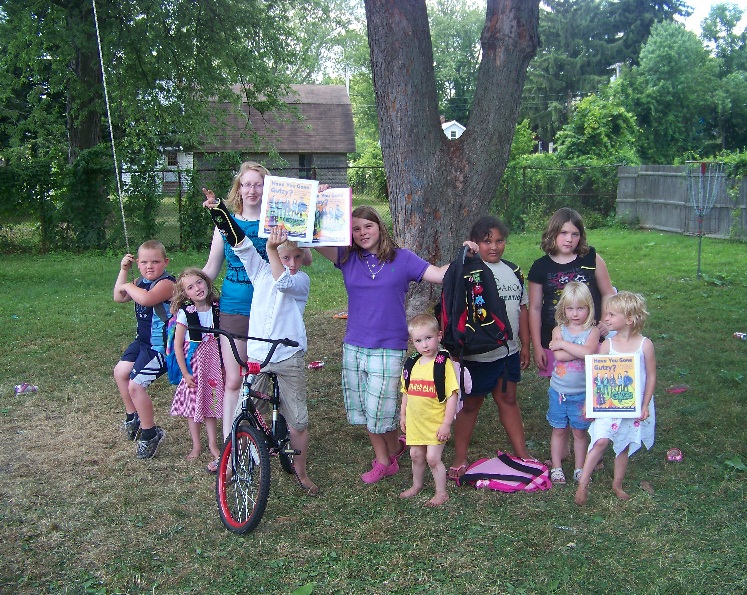 Not all of the kids who came are pictured here, but all had fun! A few even came up with new and cool ways to use their Gutzy Straps, like my son, Owen, who had a cast on his arm and decided to make it a little cooler with them. Some put them on their bike handlebars on the way home and others had already placed them on their backpacks, to get ready for school.