Super Why! LIVE at the Palace Theater in Albany, NY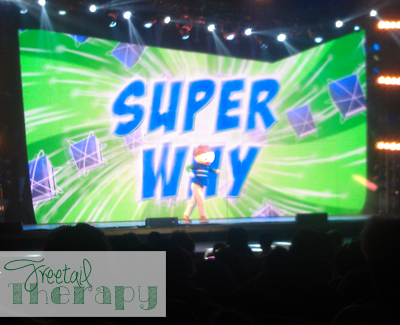 US Family Guide sent us to see Super Why! LIVE and my kids were so excited! We were given 4 tickets to go check out the show, so hubs and I took our youngest two, and the other 4 stayed home with Nana.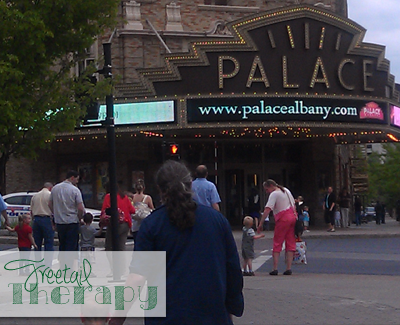 Our show was on May 10th, 2013 at 6pm at the Palace Theater in Albany, NY. This was the first time we have been to this location, and I must admit that although the place was smaller than I expected, all the seats were fantastic!
US Family Guide had our tickets at Will Call and we were able to easily pick them up, I just had to show my ID.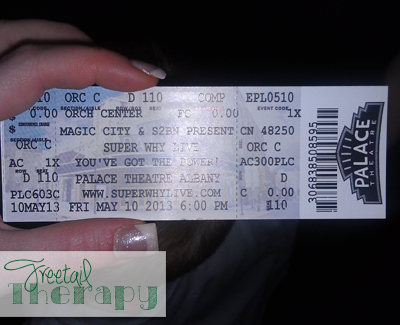 Our tickets were for Row "D", seats 7, 8 , 9 & 10. To give you an idea of where we sat, check out the seating chart below. We were on the floor level, 12 rows away from the stage. Our seats were the ones in red.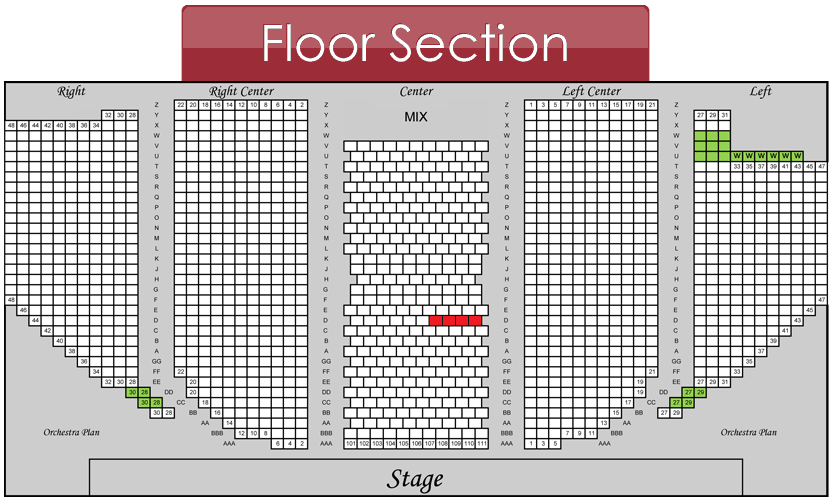 Trying to keep Liam and Lilli occupied before the show began, was the difficult part. We arrived right at 6pm, so we didn't wait too long before it began, maybe about 15 minutes.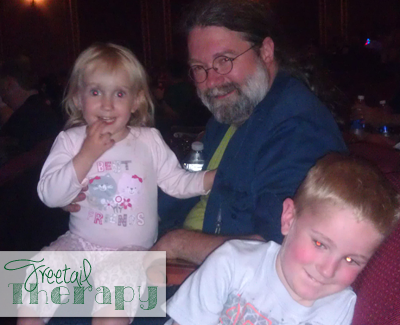 Lilli was excited, Liam was being shy and Mark gets a random photo in. He hates his picture taken for my blog, so you all rarely get to see him, enjoy the treat, HAHA!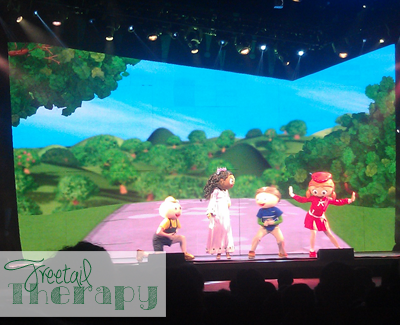 I am not sure how well it shows up in this picture, but there are some black lines on the background of the stage. This was where the magic happened! Those were doors that the characters could go through and they went from cartoons to real life "people"! It was fantastic how they seamed everything together. It really felt like you were watching the TV show, and then they came to life. I think that they did a great job at keeping things "real" for the kids, since they only ever see them as cartoon characters. If they had only come out as "real people", it may have been confusing. The actors did an amazing job at their timing too. In the beginning, Whyatt was a cartoon character, but "needed help to come out and play", so the door opened, and out pops a real foot, right in place of where the cartoon foot would have been. It wasn't enough though, and the kids in the audience had to help some more, and it got louder, and again. Finally, Whyatt was able to come through the door, and it was all done perfectly. For each inch of cartoon that disappeared, an inch of "real person" showed up.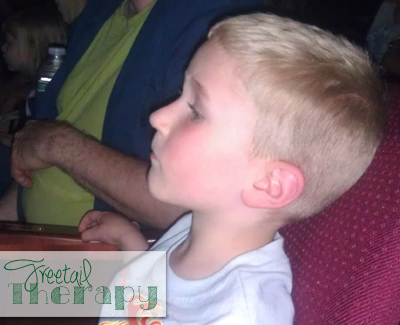 You won't see very many pictures of Liam, because they would all look like this! He was glued to his seat….well, until he figured out that they flipped up, and then he enjoyed playing with the theater seats during intermission.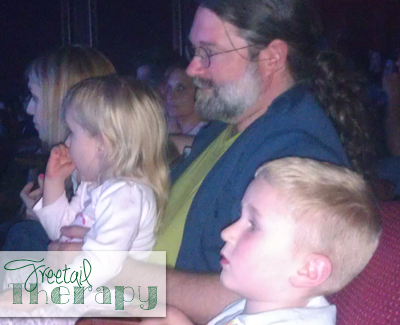 See what I mean? There he is again, just staring, enchanted with the show.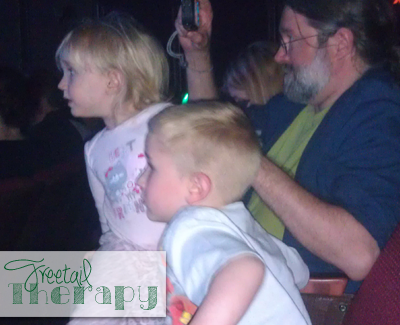 Oh wait….he MOVED! Yea, that was him realizing that the seats flipped up, it isn't much longer after this that intermission happened and he sat there opening and closing the seats.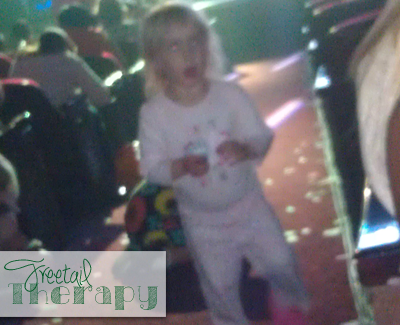 Gosh, what a blurry picture, but here is Lilli running down the isle to pick up a bunch of confetti that was blown into the audience. She thought this was the best thing ever!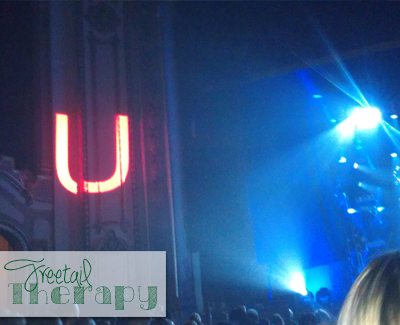 Here is where Mommy got frustrated……the Super Word was only 3 letters long, and this was the 3rd letter! For letters 1 and 2, I heard kids yelling "THERE IT IS!" and then Super Why and friends found it and the story moved on, but I NEVER SAW THEM! I was like, WHAT THE HECK!? Where are the freakin letters!? And then I saw the 3rd one……it was on the wall, but I was looking all over the background, as if it were the TV show. They did a great job at hiding them I guess, but the fact that ALL the kids saw these damned letters, and here I was, going crazy, trying to figure out where the heck they were, LOL. When I saw the "U", I felt like such a ditz that I didn't see the other ones, HAHA!
I got a bunch of different videos, but this one was by far, my favorite. Lilli was really getting into it when Princess Presto was singing a song.
And now for some random pictures that my husband took.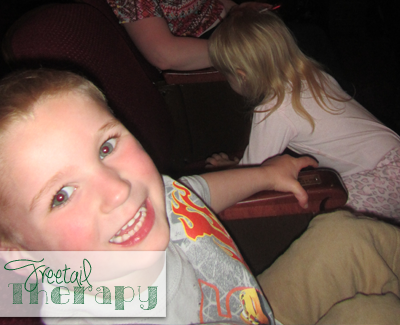 WOW! He got a shot of Liam not paying attention to the show! Apparently, he really liked it.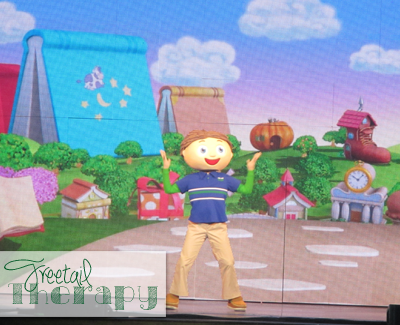 They had many of the backgrounds that are regularly used on the show. We were both really impressed at how well they managed to stay true to the show, it just seemed so on target with what they show on television, and not something completely unrelated with the same characters. I liked that about this show, it was familiar.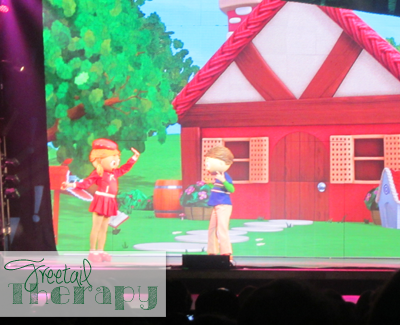 Hi there Wonder Red! My husband got more pictures of the show than I did, I was having too much fun watching the kids, lol.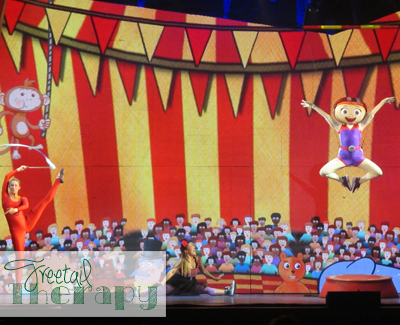 There were a few different scenes in the show, where the characters were suspended by cables, flying around, doing flips, or walking on the moon.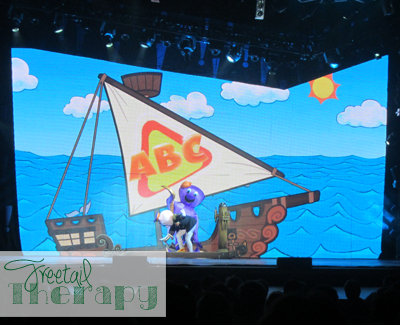 The show incorporated the cartoon, mixed with real life objects very well. In this scene, you can see the boat in the background, but Alpha Pig is actually on a deck, with a working ships wheel, at just the right location as it would have been in the cartoon behind it. Great job!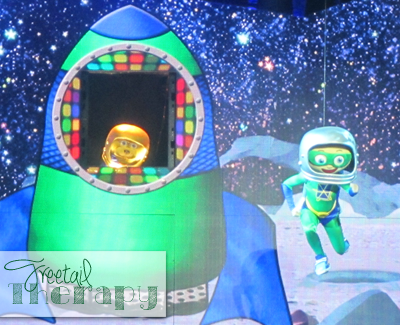 Here is another one with cables. Liam loved this scene, I think his eyes were as wide as the moon was on the screen!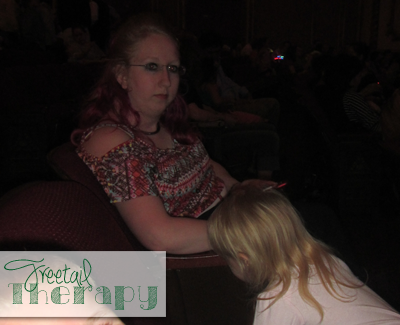 And…an obligatory picture of me…..gosh, I wish I had known it was being taken, I might have smiled.
ANYWAY, if this show is coming to your area, GO see it! The kids loved it and I enjoyed watching them have fun! The show was very well done, and I know the kids will remember this for a long time to come.
Want to get your preschooler on the path to becoming a "super reader?" Try having her watch Super Why!, a popular program on PBS KIDS that focuses on buidling specific reading skills such as learning the alphabet, word families, spelling, comprehension and vocabulary as recommended by the National Reading Panel. Geared at kids ages 3-6, the show employs a problem-solving strategy to teach — the characters in Storybook Village develop some type of conflcit and the five main Super Why! characters (all from a popular tale in fiction) use both literacy and social skills to help the best way they can.