Batch Cooking and Freezing: Many Recipes/Few Ingredients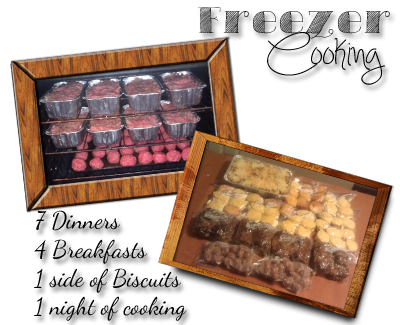 If you find yourself stopping at the supermarket every day to pick up something fresh for dinner and would like to make life a little easier when it comes to meal preparation, then batch cooking and freezing may be the answer that you are searching for.
Before you begin your batch cooking and freezing endeavor, it is important to follow a few simple rules to make this as easy as possible.
Making a List/Checking it Twice
Before making a list of ingredients that you will need for your batch cooking excursion, it is important to decide what types of meals you would like to create. It would be best if you incorporated the entire family's likes and dislikes into the equation. You do not want to take the time and effort to batch cook and have it wind up that no one cares for your choice of recipes.
Once you have established if you have a house full of carnivores or vegetarians or anything in between, begin researching different types of recipes. Once you have found recipes with pictures that you think everyone will enjoy, take the time, and trouble to show them the ingredients as well as the finished products via pictures. Have each family member pick and choose their favorites and write the recipes on individual index cards.

Starter Foods
There are two main foods to begin your batch cooking and freezing recipes with that will not require many ingredients. Those two base foods are chop meat and chicken breast. From these two food groups you can make several dishes. Chop meat can make just some of the following:
Meatballs
Meatloaf
Hamburgers
Chili
Mexican style casseroles
Chicken can be used in a variety of ways:
Chicken cutlets
Stuffed chicken breast with ham and cheese
Chicken and rice casseroles
Chicken strips for salads, fajitas, or even added to pasta with broccoli
Pantry Items
If you begin your batch cooking and freezing endeavor by expending a little bit of money on fully stocking your pantry, you will discover that reaching for the lime juice for that chicken recipe or garlic powder for those meatballs is going to make life simpler and easier on all levels.
Once you have bought meats and poultry in bulk, cut it up yourself, and separated it, you will have the beginnings of a successful effort at batch cooking and freezing with very few ingredients. Stocking your pantry with chicken broth, marinades, and spices will make batch cooking and freezing as easy as pie.