6 Shower Essentials for Under $5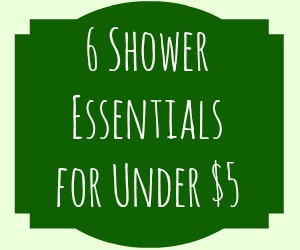 Shopping for toiletries and other things for the bathroom can be such a drag, especially when it seems like everything is more expensive now than the last time you bought them. If you've been hitting the pool a lot this summer, you may be taking longer and more frequent showers than usual and thus, going through your shampoo, soaps, razors, etc. more quickly. These items don't need to be expensive, however. Check out these six shower essentials you can find for less than $5:
Shampoo
Unless you have a certain type of hair or got a hair treatment that would require more of a specialized shampoo – perm, Brazilian Blowout, coloring, etc. – then spending lots of money on a name brand shampoo isn't worth it. The only purpose of shampoo is to clean your hair of sweat, dead skin, and other particles we encounter on a daily basis, and even the most basic of shampoos can get the job done. Target sells pretty cheap shampoo varieties, or you can go online and buy your favorite bottles of shampoo in bulk, which could lower the cost of an otherwise mid-price range shampoo to less than $5 per bottle.
Body Wash
Bath and Body Works is very popular, but their body washes cost as much as $14 on average. Alternatively, you can see if there's a clearance bin, coupons, or a sale going on. Beware the sales, however: we're often sucked into buying more body wash bottles than we were intending to because "it's such a good deal" and the overly friendly B&BW employees are more than happy to encourage us to take advantage of the special offers. Online, you'll find a wider variety of body wash scents, sizes, and prices. Check SumoCoupon for coupons or codes on beauty products prior to checkout for the biggest savings on body wash.

Pouf Sponges
These sponges are some of the cheapest contenders on this list, as they come in variety packs of 8 for as little as $6 on Amazon. The price of one pouf sponge can be less than a dollar and they come in a range of fun and bright colors.
Shaving Gear
Razors could cost you over $18 for a pack of 3-4 in some stores, but if you shop primarily online, you can find disposable razors for as little as $1 each (note that the average is $2 per razor when sold individually). If you don't want to sacrifice some quality to keep your razor costs below $5, then read user reviews on Amazons before deciding on which razor brand is best for you. Also, instead of buying shaving cream, use a thin layer of your own conditioner as a barrier between your legs and the razor.
Washcloths
Washcloths from Target, Walmart, and other affordable retailers shouldn't cost you over $5. You can find a washcloth to match any bathroom décor online, and possibly find a matching shower towel as well.
Squeegees
A basic rubber squeegee for cleaning off your glass shower door will cost you between $2-5 from online sellers such as eBay or Amazon. Alternatively, you can find an anti-water spot spray quite cheaply at Walmart or online and simply use paper towels to wipe it down.