A tribute to Robin WIlliams – Homemade Flubber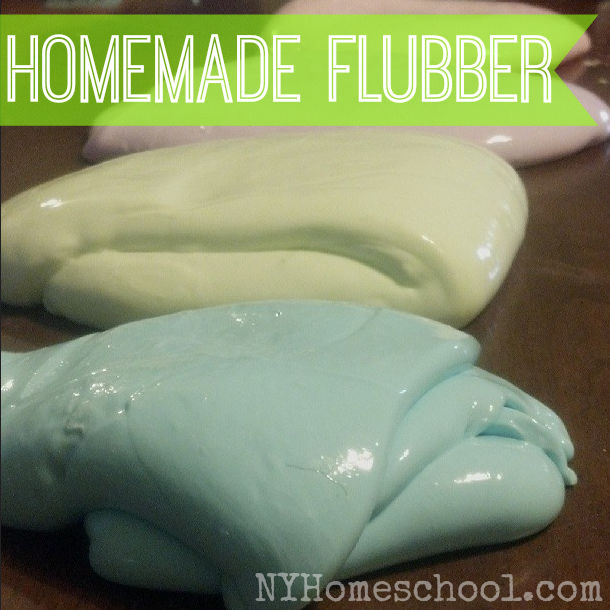 Photo Credit 
Some rights reserved by Annie Mueller
On August 11th, 2014, the world lost a very special man. Even for those of us who don't pay much attention to celebrities, and haven't felt the pain of loss for someone they have never met before, losing Robin Williams was hard. My family was never very close, I don't have the fun stories of hanging out with grandparents or Aunts and Uncles. For all intensive purposes, Robin Williams was family to me. I lost an Uncle, surely not blood related, but I adored him so much, even though we never spoke a word to each other. I for one, grew up with him, I remember watching Mork & Mindy, Aladdin, Mrs. Doubtfire, and Flubber as a child. As I aged, I watched some of his more serious movies. This man that I had never met, made a huge impact on my life. His comedy always lifted my spirits when I was down, and even further when I wasn't. We all lost an Uncle!
As a way to honor him, and introduce my children to this man, whom they will never know, I decided to start with a goofy movie and a fun project. Flubber! Definitely not one of his best movies, but a fun one for the littles!
Professor Philip Brainard (Robin Williams) of Medfield College is developing a new energy source, in an attempt to raise enough money to save the college from closure. His preoccupancy with his research distracts him from his fiancée and the college president Sara Jean Reynolds (Marcia Gay Harden); he has missed two weddings in the past as a result of this, much to the anger of Sara. On the day of the third attempted wedding, Philip is approached by his former partner Wilson Croft (Christopher McDonald), who has profited from ideas he has stolen from the chemist and now desires to steal Sara from Philip and make her his wife, which he declares directly to Philip. Before he can make it to the wedding, his latest experiment shows fast development, forcing him to miss another wedding. The resulting substance created from the experiment is a green goo that increases in speed as it bounces and proves to be difficult to control, wreaking havoc on the neighborhood before the professor finally manages to capture him. Weebo (voiced by Jodi Benson), Philip's hovering robot assistant, classifies the substance as "flying rubber", leading Philip to christen him as "Flubber".

Philip continues to work on Flubber into the early morning, looking to stabilize the rubber's movement as opposed to stimulation. Philip's watch alarm goes off at 6 a.m. (set wrong) and Weebo informs him that he has missed the third wedding. Philip goes to Sara's office and unsuccessfully attempts to explain the situation to her. Meanwhile, Medfield College sponsor Chester Hoenicker (Raymond J. Barry) is unhappy that Philip failed his son Bennett (Wil Wheaton) in chemistry class. That night, Hoenicker sends his two security guards Smith (Clancy Brown) and Wesson (Ted Levine) to Philip's house in an attempt to persuade Philip into giving Bennett a better grade. However, Philip is too busy testing the Flubber to even notice them and suddenly knocks them out unconscious with a Flubber-coated golf ball and bowling ball. He uses Flubber to give his vintage Ford Thunderbird flight. During a test run, he discovers Wilson making the moves on Sara. Afterwards, Weebo attempts to confess her love of Philip, only to be shrugged off as a computer. In response, she secretly creates a holographic human version of herself named Sylvia (Leslie Stefanson) in hopes of winning him over. Before Weebo can make out with Philip in this form as he sleeps, Philip awakens with another idea for Flubber. He enters an empty basketball arena and tests the effects of Flubber on a basketball. Later, he gives Flubber-padded shoes to the unskilled Medfield basketball team to increase their abilities.

Back in Philip's home, a spiteful Weebo unleashes Flubber from his case, allowing him to dance around the house and cause general mayhem. After the close but successful basketball game, Philip's attempt to win Sara back into his favor fails. Philip dumps all of his emotional baggage onto Weebo, saying his absent-mindedness is due to his love of Sara. Weebo records Philip's ramblings and shows the footage to Sara, who then reconciles with Philip. Philip demonstrates Flubber's abilities to Sara and they discuss how it can be used for profit. However, Hoenicker discovers Flubber's existence and sends Smith and Wesson to infiltrate Philip's house and steal Flubber. Weebo attempts to fend off the henchmen, only to be struck down by Wesson with a baseball bat. Philip and Sara return home and find Weber (Philip's house-robot) cleaning up, Flubber gone and Weebo destroyed. Later, Philip discovers that Weebo had downloaded back-up data of herself onto his computer in the event of her destruction, as well as a video recording of Weebo's hologram professing her love for him.

Philip and Sara confront Hoenicker and try to retrieve Flubber, only to discover that Wilson is allied with the millionaire. After a battle, Philip and Sara defeat Wilson, Bennett, Hoenicker and his henchmen, get Flubber back, raise enough money to save the college and finally have a successful marriage, along with Flubber and the "daughter" of Weebo, called Weebette. The film ends with the family heading to Hawaii in Philip's car.
Flubber is a polymer made by a chemical reaction. Polymers are very long chains of repeating units. When the two solutions are combined, polyvinyl acetate chains (a polymer from the white glue) are linked together in a 3-dimensional arrangement by borate ions (from the Borax) and other chemical bonds. This produces the thick, sticky polymer called Flubber.

You can make flubber at home and find out what happens when:
it is stretched?
it is rolled into a ball and bounced?
it is stretched over the opening of a jar?
an object (golf ball, etc.) is rolled on it?
or, see what else can you do with flubber? Have fun with it!
A tribute to Robin WIlliams – Homemade Flubber
3 cups Warm Water
2 cups Elmer's White Glue
Food Coloring
20 Mule Team Borax (available in the grocery store laundry section.)
Glitter (optional)
White Vinegar (for cleaning)
In a large container combine and thoroughly mix:
½ cups warm water
cups Elmers white glue
A few drops of food color and/or glitter
In a small container combine and thoroughly mix:
/3 cups warm water
level tsp 20 Mule Team Borax.
Make sure the Borax is completely dissolved.
Combine the glue and borax mixtures:
Mix well using your hands until all the liquid is absorbed. You may need to squish, mix, and break up the flubber to get it fully combined. Store the flubber in a plastic, air-tight container at room temperature. For best results, measure precisely and mix well as noted above.
If kept in an airtight container, the Flubber will keep for up to 2 weeks. Vinegar dissolves Flubber from carpet, hair, furniture, clothes, and pets. This recipe makes enough Flubber for six children.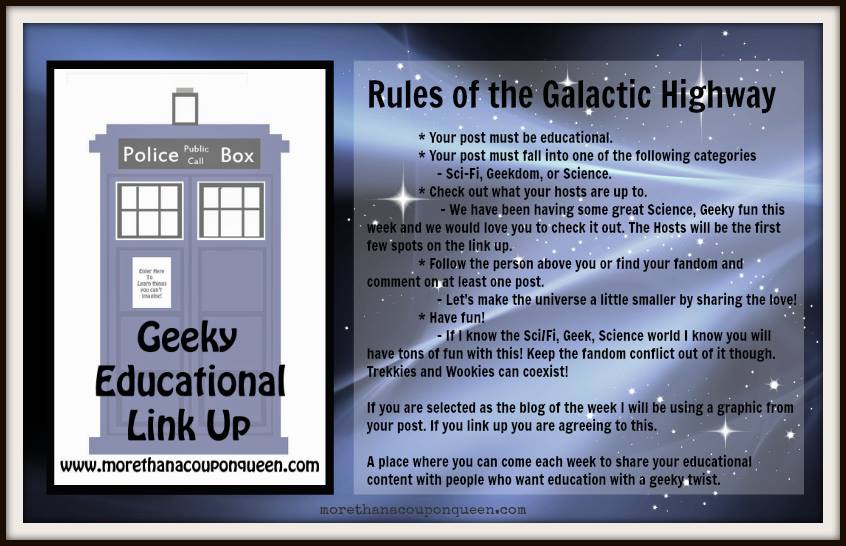 The Host of our Link Up is 
Meagan at More Than A Coupon Queen.
The other Co-hosts are:
Jess at Benoit Academy
Adelien at Blessed Learners
Jodi at NY Homeschool
Andrea at Waldorf Salad & Cottage Fries
My favorite posts from last week's link up are: