Roxx by Imperial Toy Review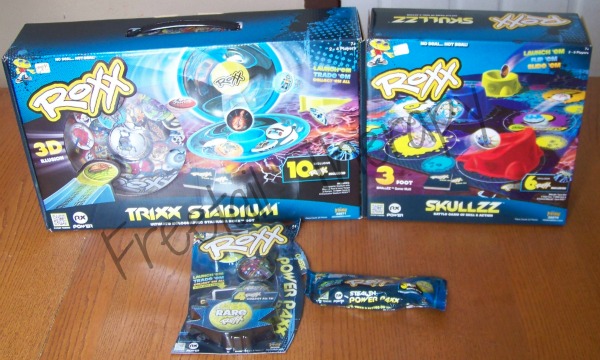 My kids were thrilled to get the chance to review the Roxx game by Imperial Toy. My husband and I hadn't heard of it before this, but they sure did! We received the Trixx Stadium, Skullzz game, Classic Power Paxx and Stealth Power Paxx to review.
This game has a total of 23 Roxx (playing pieces) and 29 Trixx cards, several targets and the game playmat.
The Trixx Stadium contains 1 stadium base and 1 stadium lid, which are saucer shaped dishes; 1 bounce pad, which is a cover that snaps onto the base and creates a mild trampoline effect; 1 three-in-1 base, which allows you to set the targets up vertically or horizontally; 1 inner target, which makes the target area smaller and more challenging; 2 ramps; 10 Roxx, which are exclusive designs to the box sets; 10 Trixx cards that are specific to using the stadium and its different parts and a decent length instruction sheet.
The Skullzz game contains the Skullzz mat, which is about 3 ft. by 3 ft.; 3 different target cups; 6 Roxx with exclusive designs to the box set and 12 Trixx cards that use the game board and targets that are included in this game; as well as a rule sheet that tells you how to play the game.
The Stealth Power Paxx contains 3 hidden Roxx, 2 of which are guaranteed to be common. The package states that it "may include one rare Roxx"; the package that we opened contained an Ultra Rare. This package also contains 3 Trixx cards that are for general use in all game sets or freestyle. While you are unable to see any of the Roxx on the inside of these, you will be able to tell if it contains an ultra rare, since ultra rares have a hole on one side, to make the holographic image pop. You won't be able to tell if you have a rare without opening the package, but an ultra rare is easily detected by feeling the package.
The Classic Power Paxx include 4 Roxx, 3 of which are Classic R1's (common) of which, one is face up in the clear plastic package. The one at the bottom is entirely hidden and is guaranteed to be either a Rare R2 or Ultra Rare R3 holographic Roxx. This also includes 4 general Trixx cards that can be used with any set or the freestyle game.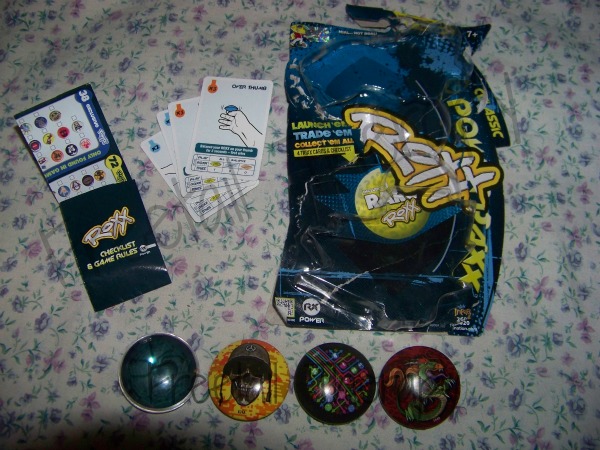 One of the better things about this toy is that there are multiple ways to play. You can play Skullzz as the board game, using the rules that come with it, or the Freestyle Game, which has a rule book in each set. You can also play Freestyle with the Trixx Stadium cards and set, which adds more to the Freestyle game. Due to the fact aht so little equipment is required, the Freestyle game is sure to be a huge hit on the school playgrounds. The game also has a collector aspect to it, where there are classic commons, rares and ultra rares, as well as a separate pack of ultra rares called Reflectorzz.
In all of the instruction sheets, Imperial encourages you to make up games and to share ideas on RoxxNation.com, which is fantastic for free thinking. RoxxNation allows you to show off your set, and is sure to expand in the future, plus it is free to join.
Here is a quick video I made while my husband and kids were playing the game. Unfortunately, the instructions in the video aren't extremely accurate, since we hadn't learned all of the rules at this point.

The Roxx Skullz game is basically a race, where players slide, flip, roll, bounce, ricochet or other challenges as the game cards state. The final challenge is to flip it into target #9, which will win you the game if you make it there and complete that challenge before the other players.
It is my opinion that this is going to be one of the hottest holiday toys this year, since the prices on eBay are currently higher than the store, which is always an indicator of a hot seller. My oldest son brought a couple Roxx to school, to get a general idea of the street knowledge of the game. Apparently many of his friends have said that they are already seeing commercials for this game, and are interested or already have some of them. Our local WalMart seems to have low supply, but a lot of empty spaces, which means they are already selling quickly.
The Roxx are about 2 inches wide and about 3/4 of an inch wide and kind of look like a UFO Saucer, or from the side; a football.
My kids invited over a friend to play, and it was a hit, they all had a blast playing. It even appeals to adults, according to my neighbors, who have a lot of fun playing beer pong and said this could easily be turned in to a fun drinking game. Don't tell my kids that….
There are other game pieces available as well, such as: Hammer Launcher, which comes with 2 Roxx and makes it easier for younger kids to flip; Rockett Launcher, which comes with 2 Roxx and makes it easier for younger kids to roll the Roxx; Boxx-a-Roxx, which comes with 4 Roxx and safely stores your collection.
ROXX are available at all major retail stores as well as at Amazon. I am looking forward to reviewing some of the other pieces available, and as soon as I do, I will let you all know!