Review and Sweepstakes: LovejoyCreations Custom hand tooled leather wallets, purses, and belts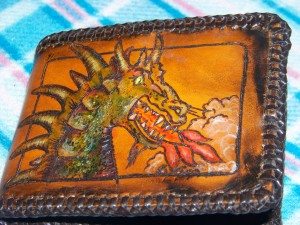 Ok, so I got the COOLEST review EVER, and I am so excited to share this with you all! I got a hold of LovejoyCreations and asked her if she would like to work with us, she was very enthusiastic about it, and so began the work!
I needed a present for my oldest son, whose Birthday is in February, so I thought, why not have this custom made for him? After looking through all of her awesome stuff on Etsy, I found the Dragon! He is OBSESSED with them, so I KNEW this was the one! Check this out! You see the front of the wallet above, it is beautiful and intensely detailed, but the back? WOW, simply stunning!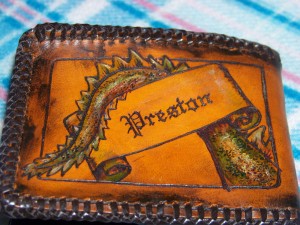 It  is the dragon's tail, with my son's name in an Old English type font! How cool!? I know he is going to flip, over this wallet once he gets it!
This is all 100% Hand-made, which astounds me, because it is literally flawless! It is real leather and hand-tooled, not to mention custom made for my son! I have honestly never seen a nicer wallet and am very impressed with the care put into this.
Want to know what I love the most? The fact that when this wallet is opened, it is the whole dragon! I think that was so cool and adds the perfect touch to an already perfect wallet.
This wallet sells for $125 on Etsy and is worth every penny! It is so well made, that I doubt my son will ever need to purchase another wallet in his lifetime! I'm going to slip a $20 inside of it, and that is going to be his Birthday gift this year. You can't give a wallet without money in it, ya know? It's bad luck!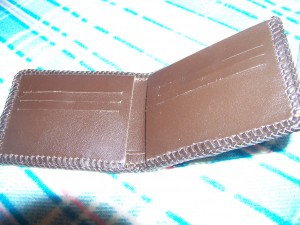 This wallet has space for 6 credit cards, (although the only he has right now is his Jingit card) and has two side pockets for whatever he needs to store in there.

If you tend to keep change in your wallets, you may want to check out some of the other style wallets she has available, because I have a feeling it would fall out of this style easily, but it is wonderful for holding paper money, receipts, credit cards and phone numbers of all those girls that are chasing after my son…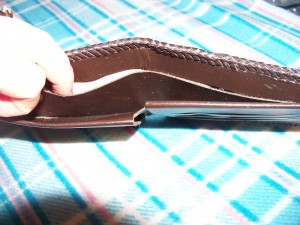 The inside of the wallet has two sections, which is nice for keeping your higher bills separate from the ones, or those phone numbers apart from your cash.
I really love how it is all put together with the hand stitching! It gives it that rugged look.
Well, I must say, I am VERY impressed with the craftsmanship of this wallet, and I would order from  LovejoyCreations again in a heartbeat! I am currently eyeing the Rose Leather Wallet for myself!
See something you like? How about the Tribal Fox Pouch? You have a chance to WIN IT! LovejoyCreations is offering one lucky Freetailer the chance to have their very own custom made leather pouch! Enter in the Rafflecopter below. Good luck!