Review and Giveaway: GyroBowl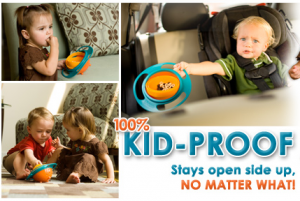 I was given the opportunity to test out the
Gyro Bowl
for 2 of my messiest children. The idea behind this bowl is that it swivels during movement, so there is no spills. It really does what it is supposed to do, for the most part. Any walking around, tipping and tripping, keeps the food safely inside the bowl, even while hanging upside down on the monkey bars.
There are a few very small flaws to the Gyro Bowl, not important enough to not purchase one for your child though. Jumping, or escessive movement up and down, will make the food spill out, since the gyro mechanism isn't meant to cover the top of the bowl. Also, I would not recommend putting any wet foods (sliced apples and such) into the bowl, because pieces can be lodged between the bowl and the caseing, making it hard to clean. I have found that putting your dishcloth in one side and moving it back and forth until it comes out the other side, gets the the Gyro Bowl clean though.
There are far more positives to this bowl than negatives though! The bowl has little feet on the bottom of it, making filling easy, because it sits flat on your countertop. With all the running around that little ones do, this bowl is a MUST HAVE for play dates, library visits and Mommy & Me classes, because it keeps them occupied, and allows them to have food ALL THE TIME, which without food, my kids are never quiet, lol. This is the ONLY bowl that I allow in my van, due to the fact that they are not able to make a mess with their Apple Jacks, like they did with those little sandwich bags. The bowl also comes with a lid, so you can fill it and pack it away until it is needed, not that we ever use the lid, because SOMEONE is always holding and using it, haha.
Thanks to Gyro Bowl, one lucky fan will be able to win their very own Gyro Bowl! Enter using the Rafflecopter below.