Purex No Sort for Colors!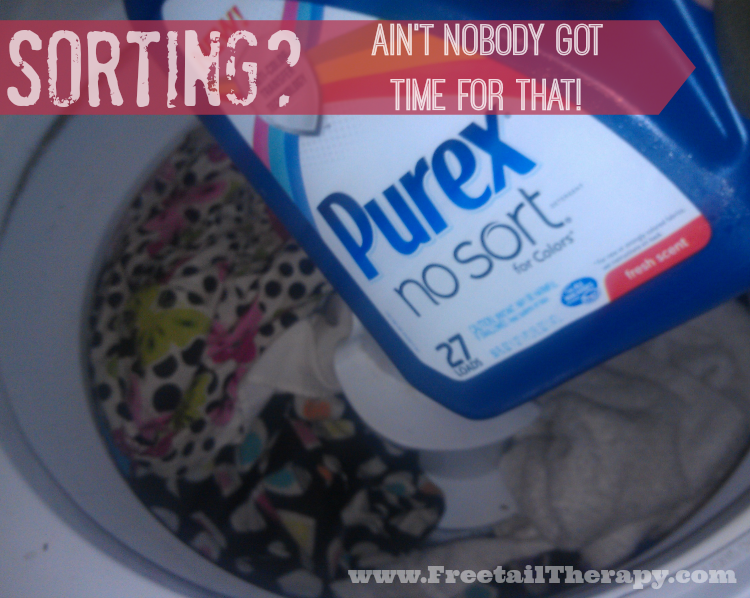 As a mother of 6, laundry is a daily thing here, there is no "Weekly Laundry Day" unless you consider the days that end in Y as our laundry day. There are days when we do 2, 3 even 4 loads of laundry in a single day, and if we skip a day? OH BOY! Let's not even go there! Since laundry is pretty much always going at my house, I don't sort! Never have, and probably never will! I have never ruined any clothing by not sorting either, so it never occurred to me to do it any other way. Purex has multiplied my faith in that department, because they have come out with their "No Sort for Colors" detergent, and I could not be happier!
We pretty much only use Purex here, because their prices are great and they go on sale so often. I stock up on them every time I see those B1G2 sales! Those really make my week! I generally buy the ones in the white bottles, the Purex Free and Clear, because it contains no perfumes or dyes and is hypoallergenic, unscented, and ideal for sensitive skin. However, when they sent me a bottle of their "No Sort for Colors', I was thrilled to try it!
While I am not overly thrilled about their use of dyes and scents in the "No Sort" detergent, I was happy that it wasn't overly scented. It was a fresh, clean scent and something my nose can handle. I would love to see this formula in a dye and scent free version though!
Purex No Sort for Colors can be used on all laundry marked machine-washable. Just be sure to check the label for any special care instructions. When washing your colors, dyes can often bleed, or transfer, from your darker colored garments onto the lighter ones in the wash. Their new Anti-Color-Transfer Technology, exclusive to Purex No Sort for Colors, traps loose dyes in the wash, and does not let them settle onto other fabrics. When your wash cycle finishes, the trapped dye is simply washed down the drain along with the water – leaving your clothes bright and clean.
They designed Purex No Sort for Colors for washing mixed color laundry loads, but despite all the innovation it does not perform miracles. So they strongly suggest that with any new or strongly colored fabrics, that you wash these separately 5 times before combining them with mixed colors and using Purex No Sort for Colors. Also be sure to check your label for any special care instructions. Purex No Sort for Colors does not eliminate the need to dry clean particular clothing. I, personally, have never separated clothing, even the new ones, and I refuse to buy anything that requires dry cleaning.
Prior to Purex No Sort for Colors, the old way was to throw a color protecting washer sheet plus detergent into the wash, or to separate your brights from lights from whites. The washer sheet is a treated sheet that catches loose dyes by attracting them to the sheet. A major drawback to this old method is that you must remember to toss the sheet in the wash, similar to dryer sheets if you remember to use them, plus, heck, that's just more money and time you're spending.

Purex No Sort for Colors simplifies your routine. It's a one step solution to help reduce color bleeding accidents in the wash. No sheets required. Just put your mixed color load into the washer, pour in some PurexNo Sort for Colors according to load size, and that's it! When the wash cycle finishes, the dyes simply wash down the drain along with the water – so there is no sheet to throw away.
You'll find Purex No Sort for Colors and their other great laundry care products at many retailers throughout North America. Find a store near you.
To celebrate the release of the NEW Purex No Sort for Colors detergent, the Purex brand will be hosting a Sweepstakes. One grand prize winner will receive $1,000, while 100 2nd place winners will receive a coupon for free Purex No Sort for Colors detergent!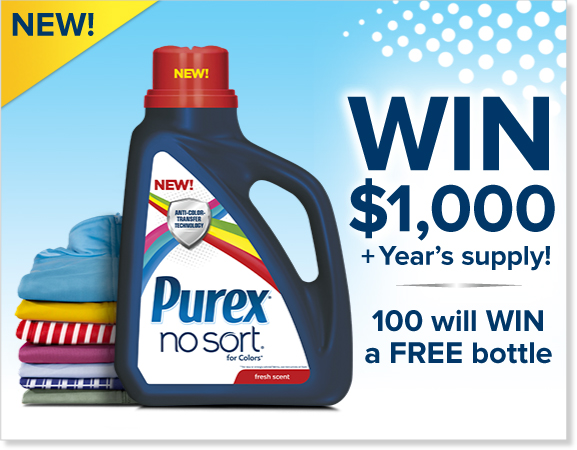 Make sure to enter their sweepstakes HERE!
On top of their amazing sweepstakes, they have also provided a coupon for a FREE bottle of Purex No Sort for Colors Detergent (Max Value $6.00)! This coupon expires on 6/2/2014, so I would suggest holding onto it until another one of those B1G2 sales comes around, because you will be able to use this one coupon and get 3 bottles for FREE!
Enter to win this coupon, by using the form below! Good luck!