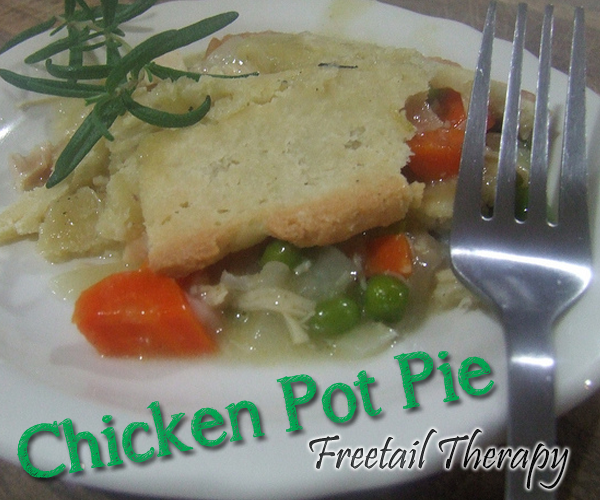 Recipe: Chicken Pot Pie
Author:
Ingredients
3 stalks of celery, finely diced
3 carrots, finely diced
1 cup finely diced onion
4 Tbs butter
2 cups cooked, chopped chicken
1 cup flour
1 tsp chicken bouillon
2 cups chicken broth
1 cup heavy cream
1/2 cup frozen peas
1 tsp ground thyme
1 tsp salt
1/2 tsp pepper
1 refrigerated pie crust (or you can make your own crust)
Instructions
Saute celery, onions, and carrots in butter until translucent, then add in the chicken.
Dust the flour evenly over the mixture and stir to combine them.
Continue to cook for about 3-5 minutes.
Pour in the chicken broth, bouillon, and cream and stir well, then add frozen peas.
Allow to cook over low heat until thickened, while you place the bottom layer of the crust in your pie pan.
Season with thyme, salt and pepper, then pour into your bottom crust in the pie pan.
Top with pie crust, pressing gently into the sides, to seal.
Cut slits into the top of the crust.
Bake for 30 minutes at 400 degrees F or until crust is golden and filling is bubbly.
Cool 10 minutes before serving.