Couture Gel Nail Polish Review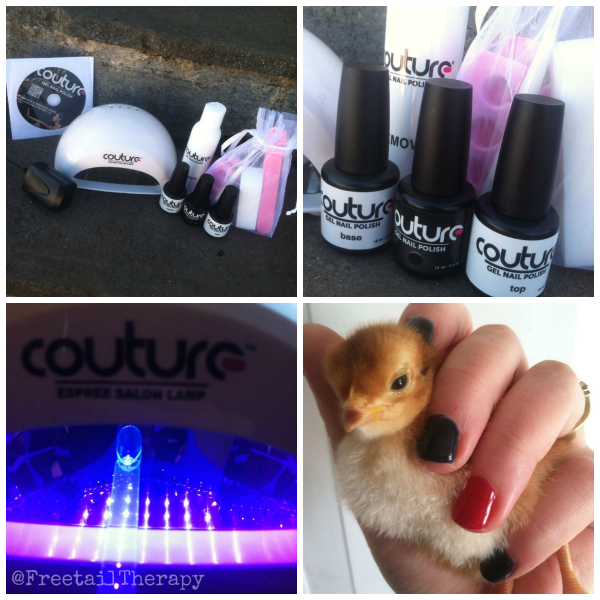 Couture Gel Nail Polish knows how much I love polish (I own about 2,000 bottles of polish!) AND that I am a new Homesteader, so they asked me to review their gel polish, that should be able to allow me to have a beautiful manicure while still being able to work in the chicken coop.
Just because I am having fun getting my hands dirty, doesn't mean I want to give up my passion for polish and I am thrilled with how well Couture Gel Nail Polish holds up to the dirty work.
They sent me their "Starter Kit" which included a Base Coat, Super Shine Top Coat, LED Espree Salon Lamp with 30 second dry time, Instructional DVD and brochure, Exclusive Remove Product and a bonus salon quality manicure tool kit as well as a Zippered Cosmetic Case, which isn't pictured because my daughter claimed that as her own.
I popped the DVD in, even though I was fairly sure on how to use the kit. It gave very clear instructions and showed you exactly what to do and when to do it. The application was a breeze and only took about 5 minutes per hand.
As for how it held up while playing with the chickens? Not too bad! I enjoy doing my nails and playing with polish, but normally it chips on me in under 24 hours, no matter what I am doing, how well I seal it with a base/top coat combo or even what brand I use, however, I was able to get this to stay on, chip free for 3 days!