Juniper (Monthly Gift) Unboxing – August 2013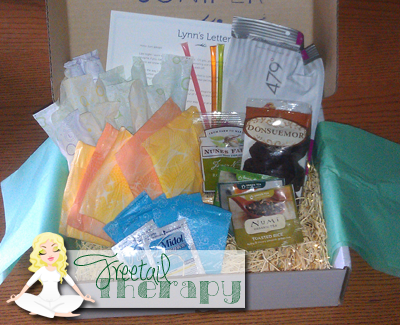 I LOVE monthly subscription boxes because it gives me a little treat, and lets me try things that I might not normally buy. Juniper is a way to get your tampons, pads, liners, Midol, feminine wipes, you name it…..each month, without having to go to the store for them. Don't get me wrong, I buy those things anyway, but if they want to ship them to my house AND include some yummy goodies to get through those awful few days, I am all for it!
The Juniper box is $28 each month (a little joke, you see….$1 per day of your cycle) and you can customize the box to your needs. Don't use tampons? Add more pads instead! Need an extra pack of Midol instead of liners? You got it! It is pure genius!
This month, on top of my tampons, pads, liners and Midol that I normally get anyway, I got some delicious treats to tide me through that rough patch. We all like to have a chocolaty snack, or something salty to munch on, during that time of the month. It helps us keep our mind off the fact that our body just exploded internally!
The treats this month were awesome, as usual. Different treats each month, but never fail to impress!

Golden Earth Neroli Body Wash – Infused with essence from the blossoms of Italian orange trees, this body wash will take you places that Calgon never did.
Nature's Kick Honey Sticks – Keylime, Pink Lemonade, and Sour Tangerine. Drizzle these on everything. Warning: lips may pucker.
Numi Teas – Toasted rice, Moroccan Mint, Decaffeinated Green Tea. Everyone needs a detox after those summer parties!
Donsuemor Chocolate Madelines – How do you send chocolate-y love through the mail this summer? With these ridiculously delicious babies, that's how!
479º Sea Salt Caramel Popcorn – To be honest, you're not ready for this taste sensation. None of us are. But it's here, and it's fabulous!
Nunes Farm Pistachios – A worthy snack to go with your favorite reality tv shows *cough* KissmeJuanPablo *cough*
Want to know another great thing about this? Lynn (the creator of Juniper) likes to promote women created businesses, by including their items in the boxes! Numbers, 1, 3, 4, and 5 were all companies that were started by women!
Once you get your box, and that time has come and you are tasting all of your goodies. You are sure to find that one that is your absolute favorite of them all…..just tweet using #lastbite with a message of your favorite item and they will include more of it in your next box!
This is a company that you become friends with (BFFs to be exact!) not just a random computer that you order from. Lynn really gets to know you and she is a hoot!
If you want to order a box, head over to Juniper and fill out your selections. Your box is tailored to you and ships around the time your cycle starts to ensure maximum freshness of all items!