Paying it Forward is Gutzy!
Gutzy Gear gave each of the 81 participating bloggers, $25 to work with. Our mission was to get as many school supplies as we could with $25. A way for us to showcase our frugal ways, and a GREAT way to donate to kids in need. I got my money in Paypal, and ran out to start shopping right away.
The first thing I bought was 2 backpacks, from Walgreens.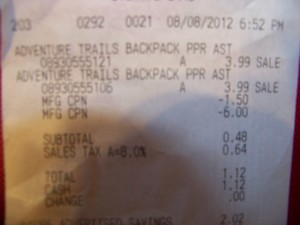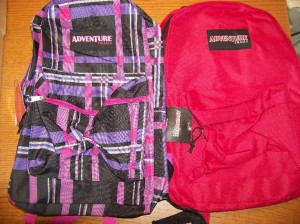 As you can see in the receipt to the right, these cost me a total of $1.12 after Register Rewards coupons, or 56c each. Which then left me with $23.88 to work with.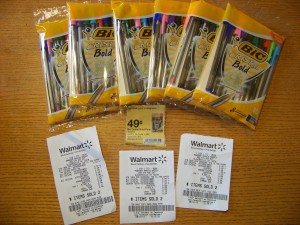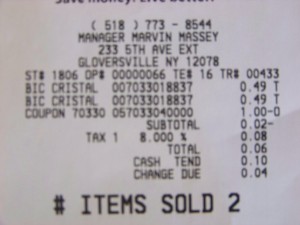 Then I went to WalMart and bought the BIC Crystal BOLD pens, since Walgreens were out of them. Walgreens had them on sale for 49c each, and I had coupons for $1/2, so all I paid was the taxes, 3c for each pack times 6 packs, for a total of 18c; bringing my available balance to $23.70. I had to get 2 packs in each order, and do it 3 times (2 of my kids helped with this one) because Walgreens had a limit of 3, but the coupon was good for 2. WalMart said they had to enforce Walgreens limits, and that was fine, since I had my kids there to do the other two transactions for me.
I also did some shopping at Dollar General.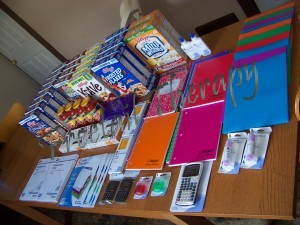 The food items in this picture were for my family, so they are not counted toward the $25 I was given to use, but I had coupons that gave me all of the school supplies for FREE when I bought the food items. For a break down, you can check out my Dollar General Shopping Trip from 8/18. I actually did the exact trip twice, so what you see above is only half of what we had to donate. These items were divided up between the two Adventure Trails backpacks. I did have to pay tax on the school supplies, and each order came to $1.60. With two trips, each with 2 transactions, that means a total of $6.40 was spent on the school supplies, leaving $17.30 in my budget.
After all was said and done, I not only had 2 FULL TO THE RIM backpacks, but I also ended up with other sponsors who thought this idea was so great, that they decided to join us.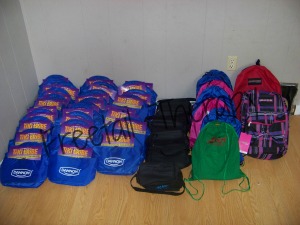 In all, we had 31 Filled Dannon Lunchbags, 6 filled Scholastic Lunchbags, 2 Filled T-Mobile Pull String Backpacks, 1 Filled Lovin' Scoopful Pull String Backpack, 3 Filled TrueSport Pull String Backpacks and 2 Filled Adventure Trails Backpacks!


I want to give a HUGE Thank you to all of our sponsors!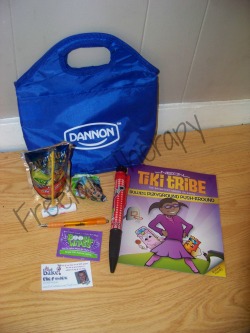 In each of the Dannon and Scholastic lunchbags, children will find:
Juice
Snack
Chuck E. Cheese's Pen
Udi's Gluten Free Food pen
Boogie Wipes
ChapStick
Neon Tiki Tribe "Bullies: Playground Push-Around" book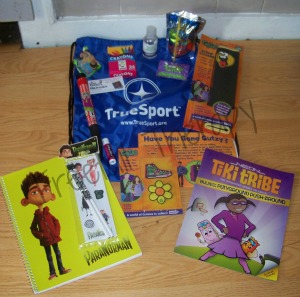 In each of the pull string backpacks, children will find
Juice
Snack
Gutzy Gear Straps and Gutzy Patches
Neon Tiki Tribe  "Bullies: Playground Push-Around" book
Crayons
Hand Sanitizer
ParaNorman Notebook and Pencils (boys) or CharmIt! bracelet and pencil (girls)
Chuck E. Cheese's Pen
ChapStick
So with $17.30 left, I figured I'd head to the Dollar Tree and pick up some Hefty bags, since they are always on the supply list for the schools, I figured they would be a great add to the pile.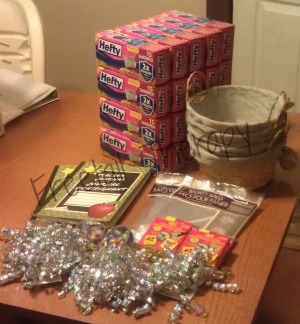 I had 10 coupons for $1/2 that I got from Wiz Clipz. They do say limit of 4 like coupons per day, so I checked out with 4, my son checked out with four and my daughter checked out with two.
The total of 20 boxes of Hefty bags came to $10.80 after coupons, leaving me with $6.50 left. Here is where it gets interesting. I bought 2 baskets, 2 notebooks, 1 double pack of basket plastic wrap and 2 boxes of stickers. I figured that if I was going to give all these great goodies to students in the school, the teachers might as well get something too. I was going to dig into my stockpile and make sure those two baskets were FULL. After those items, I had over spent by $1.06 (taxes included). That was fine by me, and we went on our merry way.
I needed half and half for my coffee in the morning, so I went to Aldi's, got out, went to the door to find out they had closed. Disappointed, I headed back to the van, where I found $7.00 on the ground! I knew it was a sign that I needed to get a few more items for the teachers, so back to the Dollar Tree we went.
I picked up 2 more baskets, another 2 pack of plastic wrap and two 3 packs of bows for a total of $6.48 after tax. Which means, I now only overspent by 54¢!
Putting these baskets together really made my day.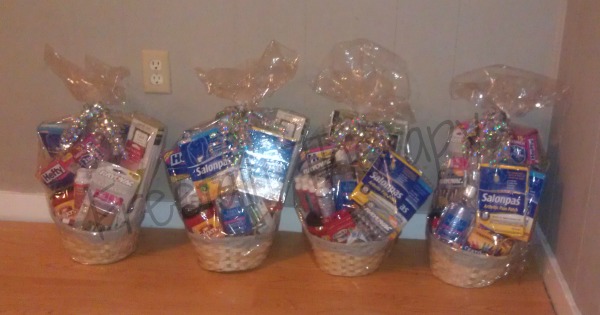 I went through my stockpile and added books, filler paper, Battery packs, Salonpas, Coffee, Crayons, Erasors and a ton of other stuff, until the bags around the baskets just couldn't hold anymore.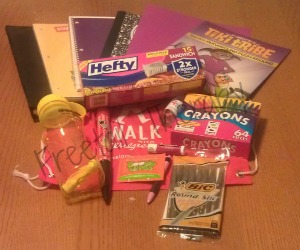 And the story gets even better. While going through my stockpile, I found another drawstring backpack, so I filled that up too!
I made sure to add a box off Hefty bags into each of the teachers gift bags, as well as one in every drawstring bag, and 2 in the Adventure Trails bags. I still have 4 boxes left, and if I were to keep 2 of them, then I only overspent by 4¢, so that is the plan. I will also throw 1 more box in each of the Adventure Trails bags.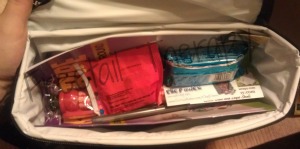 Ok, my story gets even better. As we were packing everything up, I got notice of an anonymous donor, who wanted to donate 25 lunch bags. I had a bunch more Neon Tiki Tribe books, so this was fantastic! I also still had a bunch of the Chuck E. Cheese's pens left, so I started loading them up with what I had left.
By this time, I was exhausted! We had three bags left to fill and I ran out of Chuck E. Cheese's pens, so those bags got a box of Hefty bags, instead of putting them in the big backpacks.
Oh boy….I had SEVEN Neon Tiki Tribe books left, what to do, what to do? So, I start going through my stockpile, I grab jewelry, lotions, coffee, Tylenol, hand sanitizer, snacks, perfume, just a BUNCH of stuff, and some gift bags I had. I filled them up, and plan to give those out to teachers as well.
THEN, I found another T-Mobile drawstring backpack, so I filled that up, although, that did not get a Neon Tiki Tribe book, since I had run out, but we did FANTASTIC overall, I think!
Here is a picture of EVERYTHING! All 62 Lunch Bags, 10 backpacks, 4 Teacher Gift Baskets and 7 Teacher bags! WHEW! I'm going to bed!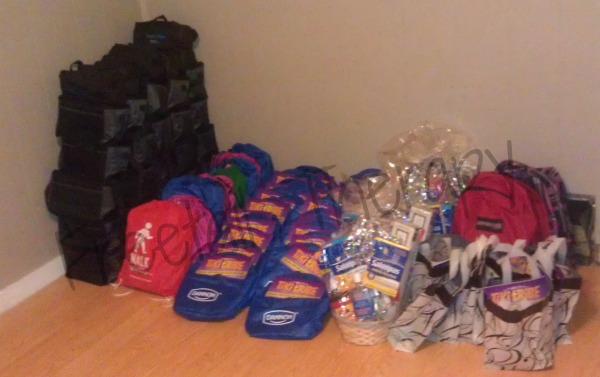 And we also managed to get two full size backpacks STUFFED with school supplies, as part of this event. I am really happy with the way things turned out!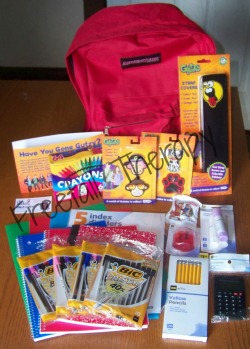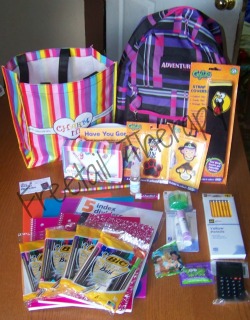 GRAND TOTAL = $25.04
This event was sponsored by Gutzy Gear and powered by Madame Deals Media.