Manicure of the Week – David Bowie from ChaCha Covers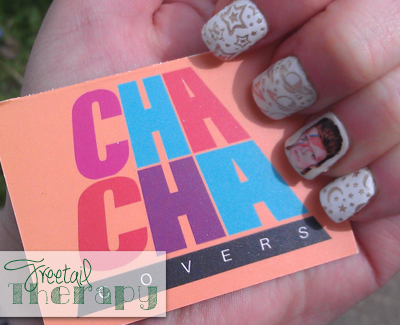 Many of you know my obsession with David Bowie, so when I found these decals, I knew I had to have them! These are handmade in L.A. and sold on Etsy for $6.00. you get a full set and I also got a couple cute little extras in my order.

These decals are pretty easy to use, but you have to be careful. Basically, you cut out around the the decal, put it under water for a couple seconds, then peel off the decal from the backing. You put a thin layer of clear coat on your nail, then apply the decal. You will need to smooth out bubbles and wrinkles, but this is where you have to be careful, because by doing that, you can stretch or tear the decal. I didn't tear mine, luckily, but I did stretch David Bowie's face a little. He is still recognizable though, so it isn't a huge issue.
I used the Ziggy Stardust decal as an accent nail, and painted the rest of my nails white, then stamped with random space pictures using L'Oreal "Because You're Worth It".