How To Make Your Own Salsa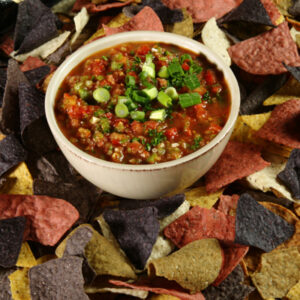 Many people have always wanted to know how to make their own salsa at their homes in order to enjoy the flavors of the tasty recipes out there at the restaurants. Salsa prepared at the restaurants is appealing but try this out and you realize that preparing your own salsa at home using fresh vegetables is much better than that! This is a step by step preparation process.
Ingredients
2 peppers with color of your choice
½ white onion
1 tomato
Cracked pepper
1 rotel can ( brand of your choice)
Cilantro
A can of Diced tomatoes
Other peppers that you may require such as chili peppers or banana peppers.
Utensils
Blender
Sharp knife
Can opener
Procedure
Wash pepper with clean water and cut the bottom and top parts as you discard them. Slice the pepper into strips after which you cube them into a large bowl.
Wash the additional pepper of your choice for example the banana pepper and cut them into small pieces. Add it into the bowl.
Wash your tomato with clean water. Chop off the bottom and top parts. Divide the tomato into slices which you then cut into very small cubes. Put them into the large bowl.

Prepare the white onion by peeling the outer part. Divide the onion into two as you use one half. Cut it into small pieces. Add them into the mixture.
Using a can opener, open the can with diced tomatoes and it them using the blender for a maximum of 3 seconds.
Open the can of rotel and add the contents into the large bowl.
Add some cilantro into the contents together with the cracked pepper and stir the contents thoroughly to mix.
Cover the mixture and refrigerate them to help blending the flavors for at least 3 hours.
Your personal home made salsa is ready!! Enjoy..